Primal Passion
Trinity Masters, book 2
There is passion and power in three…
Deni Parker thinks she's got it all figured out. At the cutting edge of science, she has little time for anything but work. Luckily she doesn't have to bother with dating because she's a member of the Trinity Masters—a secret society that has not only helped her career, but which will identify the two people she'll spend the rest of her life with in an arranged ménage marriage.  When her invitation to the introduction ceremony is delivered—years ahead of what she expected—by the very intimidating, and far too handsome, Price Bennett, Deni's more than a little unprepared.
Price didn't join the Trinity Masters to play messenger. As CEO of a major security firm and heir to one of the largest fortunes in the world, he's annoyed when the Grand Master orders him to transport the disorganized, virgin scientist to the ceremony to meet her partners. It's only when they arrive that Price realizes he isn't a messenger—he's been matched with Deni.
FBI Agent Gunner Wells has been in love with Deni for years, but he's resisted giving in to his attraction. When he arrives at his introduction ceremony, he's delighted to discover Deni is not only a member of the secret society, but one of his partners…along with billionaire playboy, Price Bennett.
Their strong personalities clash—in the bedroom and out of it—but Price and Gunner have to put aside their overprotectiveness, and Deni must put aside her pride, when someone tries to stop her research—with deadly methods.
Primal Passion is available at Smashwords, Amazon, Barnes and Noble and ARe.
Misplaced Hands
Foreign Affairs, Book Four
A "life swap" with her Australian friend finds Harper on Farpoint Creek cattle station, resident teacher for the next two weeks. Having rarely left Chicago, she's unprepared for so many things Down Under—not the least of which is an instant, and instantly intense, attraction to not one, but two Aussie cowboys. She'd promised herself an adventure, so when the handsome pair come calling, Harper dives in. Literally.
Stockmen Keith and Marc are head-over-heels in lust with the American teacher, though the attraction brings about some surprising revelations. Like how right it feels to share a woman. This woman. No jealousy between the lifelong mates, just a burning need to see to Harper's pleasure. Together. And they happily do so—until an unsettling event unearths Harper's own tragic revelation.
Between Harper's inability to confide in the men, and her stay at Farpoint racing to an end, it seems inevitable the three lovers will be driven apart. Doesn't it?
Inside Scoop: This story has a very brief, non-descriptive recollection of child abuse. Good thing Harper has two strong stockmen to chase away the bad memories.
Misplaced Hands is available at Amazon, Kobo, and Barnes and Noble.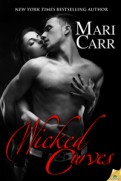 Wicked Curves (print anthology of Happy Hour and Slam Dunk)
Who said past imperfect can't lead to future perfect?
Happy Hour
When Jamie and Trey make Grace the offer of a lifetime, she jumps at the chance. The threesome spend one night indulging every desire, every craving. Trey says goodbye in the morning, but when Jamie asks Grace to stay, she wonders if a happy hour can become a happier lifetime?
Slam Dunk
Trey wants Ellie. If only she'd stop holding him at arm's length long enough to give him a chance. Ellie has sworn off workplace romances for good reason, but Trey is a serious threat to her resolve. Maybe it wouldn't hurt to fudge the rules. Just a little.
Wicked Curves is available at Amazon, Samhain, and Barnes and Noble.