Yes…yes…I realize that if you pay the slightest bit of attention to me and my writing world, you're going to think I've lost my ever-loving mind. And in truth, you'll be *at least* half right.
Why? Because from now until GOD ONLY KNOWS WHEN it's going to look like I'm releasing a book every couple of weeks. And…okay, yeah…I am.
Here's the deal. The beginning of 2016 was rough for me. Husband was in midst of "will I, won't I" lose my job (he did). Son was having some health issues. Another close family member was battling cancer. As can be expected, my writing brain shut down as I fretted, cried, drank too much wine, ate too much chocolate and was consumed with all the things that were worrying the hell out of me. I dug myself out of it around May and started writing again.
Then, in August, the drama that is Ellora's Cave came to a head. I had seven books left with them. Books that they hadn't paid me royalties on since June 2o15. Like most EC authors, I constantly waged the internal war, wondering if it was worth the money (and headache) to sue them. In the end, I bit the bullet and did a low-cost buy out (I just wanted out) and as such, I reacquired my last seven EC books. Great news, right? Except for the fact that I was writing again and catching up on all the stories I'd fallen behind on at the beginning of the year.
What does that mean for my readers? An avalanche of releases right now. In the interest of full-disclosure, I want you to know what's coming. What's new, what's old, what's different and what's the same. LOL–I feel like a bride…something old, something new, something borrowed, something blue!
Also–a good author would have linked up this whole post, but I didn't. Call me lazy or tired or old…whatever…all descriptions are accurate. All the buy links for these books can be found on my site. Just search by series (all of which I've mentioned below) and you'll find the buy links for every vendor. Sorry for the extra clicking required.
Here are the NEW RELEASES.
In July, the last Boys of Fall book, Wild Card, released. Last of nine (three by me, three by Erin Nicholas and three by Cari Quinn). If you haven't read the Boys of Fall, I really hope you will give it a try because I love every single book in that series and those characters were as dear to me as the ones I created with Jayne in Compass Brothers. Quinn, Texas…it's a hell of a place. Go visit. Root for the Titans. I swear I think you'll like it there.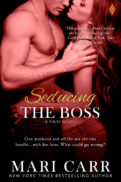 In August, I released my very first book with Entangled (found under Individual Titles). Seducing the Boss was part of the Brazen line and part of the Pulse series with Lauren Hawkeye and Cathryn Fox. Love the story, the series and that pub. I hope you'll give my story (as well as Lauren and Cat's) a peek. RED HOT MEDICAL ROMANCES. Whole thing puts a very sexy spin on the concept of "playing doctor."
In September, Lila Dubois and I put out the seventh book in the Trinity Masters series, Secret Scandal. Lila and I take turns writing these books, though we work VERY closely on the plotting of every book because of the HUGE overarching mystery included. We write so closely, in fact, that we decided to write 8 and 9 concurrently and together–wish us luck! We met in Boston (the setting for the series) this weekend. We wrote (and drank) our asses off, while visiting all the key places–the Boston Public Library, Trinity Church, Boston Park Plaza. This series–hands down–one of the hardest things I've ever written. And without a doubt, it's the series I'm MOST proud of in my entire writing career. National Treasure (romantic suspense) meets erotic romance (secret society where arranged menages marriages is the norm!–it's totally "a thing"–lol). They are hard as fuck to write, but in the end, sigh…I love them more than tequila.
In October, I finally – FINALLY – got back to my Sparks in Texas series with the release of No Other Way. Had a ball writing that menage.
Then…I started Whiskey Eyes, the next Sparks story (Macie's) and I realized what fun really was! God, I loved that woman. And Coop. Holy mother–he is hands down, one of my hottest alpha cowboys to date. I was SO IN LOVE with him by the end of the book. Anyway–Whiskey Eyes came out November 1 and the reviews have been amazing!
Then…in January…I'm launching Wilder Irish, the next generation of the Wild Irish series, with January Girl. It's Caitlyn's story. Caitlyn is Keira and Will's oldest daughter. I'm at the very, very end of the first book and I've mapped out all the rest. I'm back, baby! Back with the Collins family. I adore them. I've missed them. Being back at Pat's Pub is like coming home after too freaking long. And those crazy, wonderful characters have welcomed me with open arms. It's been a great trip home. PS–Pop is still alive and kicking and a feisty 92 year old man. I swear to God, that man will live to be a thousand years old because I can never kill him off…so rest easy, my comrades.
Which leads me to the part of my release schedule that might be driving you batty!
Here are the RE-RELEASES.
Nothing in these stories has changed, except new covers and I've updated the lingo–you'd be amazed how much can change in a few years. For example, my characters might now be using Uber instead of calling for cabs. And the cell phones no longer flip up. Stuff like that. So…if you haven't read them…please consider picking them up. If you have read them…save your money. Same stories, different covers.
On Oct. 25 , I re-released my Cowboy quickies from Ellora's Cave. Spitfire, Rekindled, and Inflamed are now in a BUNDLE called Cowboy Heat. Spitfire and Rekindled are short stories. Inflamed is an m/m/f novella (whew boy–it's a HOT one).
On Nov. 15, I'm re-releasing Because of You. This is an older Samhain story. Contracts with Samhain are 7 years long. And this one ran out (just like Erotic Research and Tequila Truth did last year). It's still a Just Because book and the other two are still Samhain stories and still available for purchase. I'm putting the first story out again on my own. I made the cover for the new version and I'm not going to lie–I freaking love it. It's that guy! He's totally hot and SO Caleb.
On Dec. 1, Winner Takes All is re-releasing. This short novella is part of the Big Easy series and was originally part of an exclusive box set called One Night in Vegas with Sierra Cartwright, Jenna Jacobs, Angel Payne, Red Phoenix and Victoria Blue. That box set was a six month deal. Time was up and now…Winner Takes All is out and on it's own. It's only .99 cents, so if you missed it in the set, it's a cheap, quick, SEXY, perfect-for-the-holidays-when-nobody-has-time read.
On Dec. 27 (my brother's birthday), I re-releasing Sugar and Spice and the sequel, Everything Nice. I'm also offering the duo in a low price BUNDLE called What Women Want. So…if you just need one of the books, grab it. BUT…if you need both, save some cash and buy the box.
THEN…in February…the Cocktales girls are going to return. Yep…Sophie, Jayne, Jordan and Steph are coming back. And if their author, Mari can get her shit together by then, she's hoping to launch the re-releases of Party Naked, Screwdriver, Bachelor's Bait, and Screaming O (note the title change–Amazon put Screaming Orgasm behind their adult filter–I'm guessing they don't like the "O" word) with a "where are they now" short story. That's the current plan…but we'll see! No promises.
AND THEN…
I have a surprise for you come April. But I ain't talking about that…not yet.
xoxo
Hope this post is helpful to you as you go forth to buy books. As always, I appreciate your continued support of me and my stories. It means more to me than words could ever express.