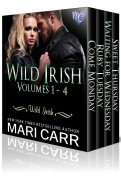 For one week only, the Wild Irish boxed set will be free. That's right! You can get the first four books in Mari Carr's "wildly" popular Wild Irish series absolutely free. But you need to act fast because this sale will end in one week. Don't blink or you'll miss it!
The Wild Irish series by New York Times bestselling author, Mari Carr, has made the Collins clan one of the most beloved families in erotic romance. Read the first four books in the series: Come Monday, Ruby Tuesday, Waiting for Wednesday and Sweet Thursday in this special boxed set.
~ ~ ~
Are you ready for more Wild Irish? The next generation in the Collin's clan is all grown up and ready for love!
January Girl
Wilder Irish, book 1
She's sleeping with the enemy…
After a nasty break-up, Caitlyn Wallace takes a year off from dating to focus on her career. The hiatus is working perfectly until she comes face to face with Lucas Whiting, the uber-rich, cutthroat businessman who is not above using questionable means to acquire something he wants. He wants Pat's Pub and he's not taking no for an answer. Caitlyn should despise the arrogant, cocky man for threatening her beloved family's business, but there's something about Lucas' sexy, dominant nature that has the hidden submissive inside her trembling with desire.
What seems like a run-of-the-mill real estate deal to Lucas goes off the rails quickly when he meets the beautiful granddaughter of Pat's Pub. Lucas never mixes business with pleasure, but that rule is quickly broken. One date turns into two and soon, Lucas and Cait are thrust into a steamy affair neither of them is prepared for. One that forces them to choose between family loyalty and love.
Preorder your copy today!

Big Announcement!
Coming April 2017, the Wild Irish Kindle World will launch with stories from some of the biggest names in romance. Be sure to stayed tuned as more news about this exciting next chapter in the Wild Irish series begins!