Screaming Orgasm – May 29
Cocktales, Book Four
Jayne Kent has watched her best friends and business partners fall in love while romance continues to pass her by. When Books and Brew regular Elias Clark offers her a Screaming Orgasm, she wishes it was the sexual variety rather than a lousy drink. She's been lusting after Elias forever and suspects he could bring all her naughty, kinky fantasies to life.
Elias has resisted his attraction to Jayne for years, assuming his dominance in the bedroom would send sweet, romantic Jayne running for the hills. Or would it? Alone in a snowstorm, Elias tests the waters and is blown away by Jayne's innate submissiveness and eagerness to stretch her boundaries. Ice play? Bondage? Flogging? Bring it on.
Soon it's no longer a question of whether or not Elias should pursue Jayne, even if she's not sure she's brave enough to submit to him forever. She's made for him, and this determined alpha male will stop at nothing until he's claimed her—completely.
Screaming Orgasm is available at Ellora's Cave, Amazon and Barnes and Noble, and Kobo.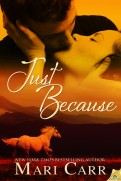 Just Because (print anthology of Because of You, Because You Love Me and Because It's True) – June 4.
Meet the James men. Bodies of iron, nerves of steel…and hearts of gold.
Because of You
When Jessie meets Caleb, the sparks fly, but pressure is the last thing Jessie needs. She needs help and Caleb is going to give it to her.
Because You Love Me
When Bridget witnesses a murder, she goes into hiding. It doesn't take Mark and Matt long to figure out they don't mind sharing Bridget. If only they can keep her alive long enough to convince her she belongs with them.
Because It's True
Rodney realizes the future he's always longed for may not be the one that makes him happy. He needs Jacob.
Full Moon – June 11
Sometimes it's not just the tide that rises…
Second Chances, Book 2
In the two years since her divorce was finalized, Josie Jacobson's life has become one long, boring routine. Work, home, repeat. She has her hands full as a single parent, and while she's not looking for a serious relationship, she sure wouldn't mind getting laid.
When her friend, Zoey, challenges her to make a New Year's resolution for a second chance at happiness, Josie goes one better and creates the "Howl List". Every full moon, she will indulge in a different sexual fantasy. Right at the top? Sex without strings.
Fate leads her to the Blue Moon bar in January. After all, what better place to howl? And when she meets Jake Stewart, the sexy bartender, and engages in some red-hot sex with a stranger, her year seems to be off to a great start.
At least, until Jake declares he wants all her full moons…
Warning: This is NOT the shifter story you are looking for. While the heroine howls during the full moon, she does it in naked, human-form only. Sorry—no wolves, but there is a really sexy bartender and lots of red-hot fantasies. 
Full Moon is available for preorder from Amazon, Barnes and Noble, and Samhain.
Compass Girls, Book 2
What will grow from the seeds of desire?
Hope Compton never considered her parents' unconventional relationship a dangerous thing. Until, after a few too many drinks in a crowded bar, she admits her desire for a ménage to her college boyfriend—and uninvited guests try to turn her fantasy into a nightmare.
When Wyatt catches some thugs harassing the pretty daughter of his bosses, he doesn't hesitate to call on his partner Clayton to kick some asses. But then he realizes what a temptation the sweet, sheltered Hope presents. Especially her naughty wish to unleash her inner vixen—with both of them.
Hope has no doubt her playmates want to fulfill her every desire, but something's holding them back. She has an idea what those somethings are. With luck, and a little help from her Compass cousins to hold her fathers off, she'll find what she needs in the shadows of the past—and convince them she's found two men of her own who are worthy of her love.
Warning: Compass books bring love in every direction and every season. But not all of life's moments are filled with joy. Take the good with the bad, and the steamy.
Some things never change. Others never stay the same. Thank God.
Second Chances, Book 3
Laura Sanders thought post-divorce life would be simple. What a rude awakening to realize that after too many years as a wife and mother, she's stuck in a rut so deep she's forgotten how to have fun.
Determined that this year will be different, she sets a New Year's goal to rediscover the woman she used to be—the one who loved to dance, to laugh, to kiss.
When Bryan Sinclair spots his best friend from high school in the Blue Moon bar, he wonders how the hell he failed to notice her beauty and vitality all those years ago. Laura's confession that she plans to experience lost opportunities tempts him into joining her on the journey.
Together they make up for lost time, in and out of the bedroom. But there's one area in which Laura has no plans to change the status quo—her heart. And Bryan has his work cut out convincing her to take another chance. On him. On forever.
Warning: This story contains sex at Rocky Horror, sex at a Jimmy Buffett concert, sex on the stairs, sex on the dining-room table, sex on the dance floor, and even sex in a bed.