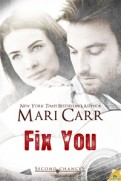 Fix You
What if love can't heal all wounds?
Second Chances, Book 1
After too many years of secretly loving her best friend, Zoey realizes she's been shortchanging herself. It's time to take action. This New Year's Eve heralds the year she's going to tell Rob the truth. Even if he is on the road, reaching for musical stardom with his band.
Her plan is derailed when she discovers a lump in her breast—and it's not "nothing to worry about". How can she ask Rob to take a chance on love when her future is so uncertain?
Rob has spent his entire life chasing his dream, but the moment he hears Zoey's voice on the phone, he realizes he's been running the wrong race. Zoey never sounds like she's been crying. Ever. Without a second thought, he books a flight for home, determined to give her everything she needs. A shoulder to cry on, a hand to hold…and nights of intensely emotional, passionate sex.
His biggest challenge, though, is convincing his best friend that he's in it for the long haul. Because he finally knows what he wants, and it's not fame and fortune. It's her—and her love.
Warning: This book runs the emotional gamut between scorching-hot passion and the pain and fear associated with cancer. Keep a box of tissues next to your glass of ice water.
Fix You is available at Samhain, Amazon, Barnes and Noble, ARe, and Kobo.
Sometimes it's not just the tide that rises…
Second Chances, Book 2
In the two years since her divorce was finalized, Josie Jacobson's life has become one long, boring routine. Work, home, repeat. She has her hands full as a single parent, and while she's not looking for a serious relationship, she sure wouldn't mind getting laid.
When her friend, Zoey, challenges her to make a New Year's resolution for a second chance at happiness, Josie goes one better and creates the "Howl List". Every full moon, she will indulge in a different sexual fantasy. Right at the top? Sex without strings.
Fate leads her to the Blue Moon bar in January. After all, what better place to howl? And when she meets Jake Stewart, the sexy bartender, and engages in some red-hot sex with a stranger, her year seems to be off to a great start.
At least, until Jake declares he wants all her full moons…
Warning: This is NOT the shifter story you are looking for. While the heroine howls during the full moon, she does it in naked, human-form only. Sorry—no wolves, but there is a really sexy bartender and lots of red-hot fantasies.
Full Moon is available for preorder from Amazon, Barnes and Noble, and Samhain.
Status Update – October 29
Some things never change. Others never stay the same. Thank God.
Second Chances, Book 3
Laura Sanders thought post-divorce life would be simple. What a rude awakening to realize that after too many years as a wife and mother, she's stuck in a rut so deep she's forgotten how to have fun.
Determined that this year will be different, she sets a New Year's goal to rediscover the woman she used to be—the one who loved to dance, to laugh, to kiss.
When Bryan Sinclair spots his best friend from high school in the Blue Moon bar, he wonders how the hell he failed to notice her beauty and vitality all those years ago. Laura's confession that she plans to experience lost opportunities tempts him into joining her on the journey.
Together they make up for lost time, in and out of the bedroom. But there's one area in which Laura has no plans to change the status quo—her heart. And Bryan has his work cut out convincing her to take another chance. On him. On forever.
Warning: This story contains sex at Rocky Horror, sex at a Jimmy Buffett concert, sex on the stairs, sex on the dining-room table, sex on the dance floor, and even sex in a bed.
Then the rest of the series will be as follows:
Back-up Plan – Kristen is a career-minded partner in a law firm. She has made a back-up plan with her colleague and friend, Jason, that if they're not married by 40, they'll marry each other. Unfortunately as time begins to slip by and she hasn't found "the one", she starts to realize she might have to institute…the plan.
Never Been Kissed - Shelly has never been married or dated. For one things, she's very shy. For another, she's overweight and struggling with severely low self-esteem. When Zoey proposes they all take a second chance at life, Shelly starts losing weight and reinventing herself. She says she's been the fat girl since fourth grade and she's tired of trying to make herself invisible. As her figure shrinks, her confidence grows and she's asked out by her kick-boxing instructor, Lance, AND the guy at the office, Christian, she's always had a crush on. Suddenly the wallflower is the pursued.
Third Time's a Charm - Georgie Sanders owns local flower shop called Georgie's Garden. She's been engaged three times, but she's broken up with them for various–not entirely sane–reasons that she's now questioning. Georgie decides she can't move forward until she goes back to find her three fiancés (Philip, Sam and Nick) to see if they're worth a second look.
Sparks Fly – Sam wants to start a family with his wife, but they can't get pregnant. After a year of trying, it's causing a strain on their otherwise happy marriage. Finally, Sam decided enough is enough. He takes her away for a second honeymoon to find a way to make the sparks fly once more.