Misplaced Princess
Foreign Affairs, Books One
Annie Prince has impetuously flown halfway 'round the world to visit a man she met online—only to find herself stranded in Sydney. Seems she and Dylan crossed wires, and he's on his way to New York. His twin, Hunter, saves the day and whisks her back to the family cattle station. Hunter's as easy on the eyes as Dylan, and even easier to talk to. Annie might have flown to Oz to meet one brother, but soon sparks are flying with the other.
Hunter considered Dylan a dumb arse for jetting off to America for some stranger—until he met Annie. Turns out the New Yorker is a smart, funny, hard-working jillaroo…and hotter than the Aussie desert. Hunter's not normally one to poach his brother's women, but he can't keep his hands, lips, tongue and other body parts off this sexy city girl.
When raging lust leads to emotional attachment, where does that leave Annie and Hunter when her vacation comes to an end—or when Dylan finds out?
Read Excerpt.
Misplaced Princess is available at Ellora's Cave, Amazon, Barnes and Noble, ARe, Kobo, and Sony.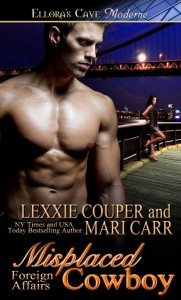 Misplaced Cowboy 
Foreign Affairs, Book Two
Flying halfway 'round the world to meet his potential soul mate sounds like a fine idea to Dylan Sullivan—until he discovers said soul mate, Annie, has gone looking for him. In Australia. Now Dylan's adrift, a bloke from the Outback alone in the bloody big city. Until he's rescued by Monet, a gorgeous local artist…and Annie's best friend.
A dyed-in-the-wool New Yorker, Monet has never met anyone like Dylan. Taking temporary care of the sizzling-hot cowboy is easy; he's friendly, funny and interesting. Keeping her hands off him is decidedly not easy. That horny accent, that killer grin…and as a successful artist, Monet is very much a hands-on sort of girl.
Dylan and Monet hold back until they learn Annie is engaged in her own foreign affair in Oz. Then all bets—and clothes—are off. But it can only be a fling. An Aussie cowboy doesn't belong in New York any more than a city girl belongs in the Outback.
Now if only their hearts would listen.
Read excerpt.
Misplaced Cowboy is available at Ellora's Cave, Amazon, Barnes and Noble, ARe, Sony and Kobo.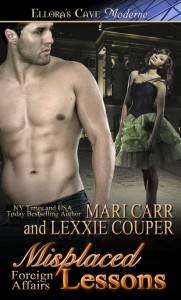 Misplaced Lessons
Foreign Affairs, Book Three
Fantasizing about forced sex with a stranger is one thing—waking up to find a scruffy man binding you to a bed is quite another. Amy fights him, until she realizes her friend Harper must have set up the sexy scenario. They've swapped lives, with Harper flying to Australia and lending her Chicago home to Amy. While she's surprised Harper would go to such lengths to help her fulfill a fantasy, Amy figures…why not?
After days of nonstop travel, Andrew arrives at the home he shares with his sister, Harper, with sleep on his mind—until he finds a naked intruder sleeping in his bed. Subduing and binding the beauty, he assumes she's the blind date his pal Mike had tried to set him up with. But would Mike actually sneak the woman into Andrew's house? Seems so. And he's not one to turn down such a gift.
By the time each has learned the other's true identity, Amy and Andrew have shared the most intense sexual experience of their lives. And they certainly don't want to stop now.
Read an excerpt.
Misplaced Lessons is available at Ellora's Cave, Amazon and Barnes and Noble.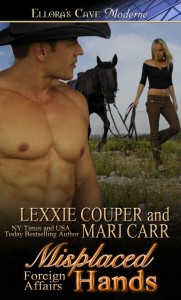 Misplaced Hands
Foreign Affairs, Book Four
A "life swap" with her Australian friend finds Harper on Farpoint Creek cattle station, resident teacher for the next two weeks. Having rarely left Chicago, she's unprepared for so many things Down Under—not the least of which is an instant, and instantly intense, attraction to not one, but two Aussie cowboys. She'd promised herself an adventure, so when the handsome pair come calling, Harper dives in. Literally.
Stockmen Keith and Marc are head-over-heels in lust with the American teacher, though the attraction brings about some surprising revelations. Like how right it feels to share a woman. This woman. No jealousy between the lifelong mates, just a burning need to see to Harper's pleasure. Together. And they happily do so—until an unsettling event unearths Harper's own tragic revelation.
Between Harper's inability to confide in the men, and her stay at Farpoint racing to an end, it seems inevitable the three lovers will be driven apart. Doesn't it?
Inside Scoop: This story has a very brief, non-descriptive recollection of child abuse. Good thing Harper has two strong stockmen to chase away the bad memories.
Misplaced Hands is available at Amazon and Barnes and Noble.