Bundles
Two (or three or five) sexy books, one low price!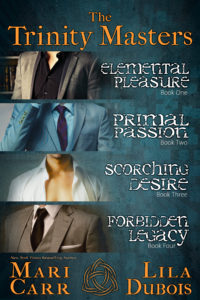 Trinity Masters, Volumes 1-4
Welcome to a world of secret societies and arranged menage marriages. Pick up the first four books in the bestselling Trinity Masters series in this exclusive boxed set.
Elemental Pleasure
A dangerous Marine. A tech genius. And a brilliant scientist.
When Carly Kenan joined the secretive Trinity Masters in college, she received entrée to an exclusive club that gave her access to wealth and power. But there's a price all members must pay—they accept an arranged marriage, between not two, but three people.
Primal Passion
An FBI agent. A billionaire CEO. And a virgin scientist.
Deni Parker doesn't have time for anything but her cutting-edge scientific work, and that's how she likes it. When she's called to the altar—years ahead of what she expected—Deni's more than a little unprepared to meet her husbands, Gunner and Price. Three strong personalities clash—in the bedroom and out of it—but Price and Gunner have to put aside their overprotectiveness, and Deni must put aside her pride, when someone tries to stop her research—with deadly methods.
Scorching Desire
A reformed spy. A respectable lawyer. And a renowned playboy.
When Damon Corso is blackmailed it's not just his career that's in jeopardy, but the existence of the Trinity Masters–America's oldest and most powerful secret society. He and fellow member Marco, a world famous playboy musician, enjoy sharing women, a secret that until now they've kept quiet. Tasha is the reformed spy sent to help them…and marry them. The men must trust their futures to the unexpectedly innocent woman. Blackmail escalates to violence, and they'll have to trust and accept one another if they're going to survive.
Forbidden Legacy
An enigmatic leader. A talented doctor. And the man who can bring them together.
Harrison Adams has served as leader of the Trinity Masters for a decade. He's always placed the group above his own needs—even when it comes to the one woman who calls to him. When a dangerous threat to the secret society surfaces, Harrison sets a plan in motion that could save the organization, but it comes with a price.
Amazon | iBooks | Kobo | Nook | Google
Cowboy Heat
Spitfire
Rem Bradley has loved Liv Carter for far too long. After his father's sudden death, Rem comes home for good—ready to reclaim his family's ranch and his woman. Problem is, the spitfire he finds brawling in the roughest bar in town is not the girl he left behind.
Liv recognizes trouble when she sees it, but she'd be a fool to resist Rem's seductive demands. Starting in the barn where they'd left off years ago, they use every available body part, plus a toy or two, to bring each other maximum pleasure.
To make up for past mistakes, however, Rem is going to have to do a hell of a lot more than just satisfy her body—but that's a damn good start.
Rekindled
It's been a year since her husband's passing, and running the ranch is taking its toll on Claire Hutchins. Independent as the day is long, she concedes the need for help. She wants a foreman, an employee to run the day-to-day who can handle a woman calling the shots. Someone who won't give her any trouble.
Who shows up at her door, first in line for the job? Jeb Carter. Ex-high-school sweetheart. Longtime rodeo star. And the one man capable of making Claire's lust burn out of control…of making her surrender completely.
Trouble has finally come calling…and he's as irresistible as ever.
Inflamed
Stuck in a rut in every way possible, Keri decides her first step in a bid for change is moving back to the Texas home she left years ago. The second step? Spicing up her sex life with the crazy-hot cowboys she left behind. Too responsible (and smart) to touch her way back when, Max and Shaw filled Keri's hottest teen dreams. Now she's older, wiser—and more than ready to make up for lost time.
Max and Shaw were always fond of Keri, but the stunning woman strutting back into their lives is a far cry from the serious, studious teen they remember. She wants to take a walk on the racy side—with both of them—and the cowboys are only too happy to oblige. As they suspected, the sex is explosive, though Max and Shaw aren't sure Keri can really handle everything they have to give.
Nor do they know if she can handle the sexy secret they've yet to divulge.
These stories have been previously published.
Amazon | Google | iBooks | Kobo | Nook 
 ~ ~ ~
Sugar and Spice
Ginny's thirtieth birthday is shaping up to be the worst ever, until her best friend, Ryan, takes her to the Way Down Under, a new sex club she's been dying to visit. Too bad Ryan refuses to let her see anything but the club's tasteful bar.
Sneaking off to explore, Ginny is busted by Ryan in the Voyeur Room. But instead of taking her home, Ryan intends to teach her a lesson—and immediately commands her to strip. Stunned, Ginny obeys, and embarks on a night unlike any other. She's brought to orgasm in front of strangers, bound to a bed, endures hours of sexual ecstasy and made to succumb to other intense urges—all by her best friend.
After hiding from Ryan the rest of the weekend—resulting in delicious punishment in his office on Monday—Ginny discovers emotions in their lifelong friendship that may have been there all along. She doesn't know if she can convince Ryan of the same…but a bit of "sweet" bondage might help.
Everything Nice
Charlie wants Allie. Allie and Alex want each other—and Charlie. But does Charlie want Alex? Plunging headfirst into a ménage is one way to find out…
After Alex confesses to Allie that he wants both her and his best friend, Charlie, in his bed, Allie skips town like a thief in the night. Now, six years later, Allie is back in their lives, all grown up and more alluring than ever. What starts as a night of three friends catching up turns into intimate explorations in Charlie's truck…and Alex's shower…and his king-size bed…
While Alex and Allie are thrilled with the threesome, Charlie struggles with the idea of sharing Allie, and with his newfound feelings for his best friend. A hot encounter at the office—with Alex bent over his desk—only confuses Charlie further. It's up to Alex and Allie to convince him that two plus one can equal love.
Amazon | Google | iBooks | Kobo | Nook | Smashwords
~ ~ ~
Wild Irish Boxed Set
The Wild Irish series has made the Collins clan one of the most beloved families in erotic romance. Read the first four books in the series: Come Monday, Ruby Tuesday, Waiting for Wednesday and Sweet Thursday in this special boxed set.
Amazon | Google | iBooks | Kobo | Nook | Smashwords
~ ~ ~
Scoundrels
Black Jack, book 1
Jack has a secret. One he's kept hidden from his best friend Emma. When she calls in a favor, asking Jack to perform in a pirate fetish fantasy at the nightclub she manages, Emma inadvertently opens Pandora's box—for both of them. As portraying a dominant pirate forces more of Jack's dark desires to light, Emma finds herself enmeshed in sensual explorations of BDSM, wax play, bondage and sex in public that leave her questioning her vanilla existence.
When one more heated interlude on the stage finds her submitting to Jack, Emma suspects she'll never find her way back to her simple missionary lifestyle. But with Jack in control…she's not sure she wants to.
White Knight, book 2
Shea Landon knows this is a bad idea. But when you're broke, tired and homeless, you do crazy things. She decides to crash in her new place of employment, a fetish club, borrowing the big, comfy bed that's used as a stage prop. She doesn't realize she's not alone…
Travis Knight knows this is a bad idea. As he views his new waitress sneaking around the club after hours, he realizes he should fire her, call the police. Instead, captivated, he watches her on the same security monitors that separate him from the world. Until watching isn't nearly enough…
Two people—one desperate, one broken, both hopelessly alone. Two people assuaging their needs through spanking and sex games, bondage and taboo fantasy. It's enough. It has to be—when the biggest secret between them might be a tragedy neither can overcome.
Behind the Scenes, Under the Lights and Over the Threshold, Three Scoundrels Short Stories
Becca Preston, bartender at Scoundrels, learned very early in life that men—especially actors—were not to be trusted. Daughter of one of Hollywood's hottest leading men, Becca spent most of her life dealing with her father's other role—king of infidelity. As a result, Becca has one hard and fast rule. Don't date actors.
When Parker Banks met Bec, he was a struggling actor who worked as a waiter at Scoundrels to make ends meet. Though he wanted to move them out of the "just friends" realm, Becca refused, claiming actors untrustworthy.
After a catching a break on the Scoundrels stage, Parker's acting career skyrockets. However, while he's achieving all his goals professionally, there's still one dream he hasn't realized. Claiming Becca's heart.