Just Because
Four brothers. Three hot stories. Meet the James boys!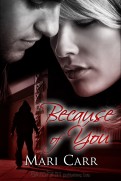 Because of You
Sometimes what you're looking for is closer than you think.
Jessie's life is a mess. In the eight hellish months since her husband died in a freak accident, she's been mugged, her house has been trashed, and now she's receiving frightening pranks calls. Still, she resists a friend's offer of a weekend getaway—her grief is too fresh to consider meeting anyone new.
Then again, since it's a party for gay men, there won't be any pressure, right?
ER doctor Caleb James feels perfectly at ease among his gay brother's friends, but one look at Jessie sparks a sexual tension that's impossible to ignore. A few drinks and a few hours of conversation later, things move a lot faster than either of them expects. Jessie is left confused and Caleb aches with regret—and love for a woman who is still guarding her heart.
Pressure is the last thing she needs. But as it becomes apparent that her string of misfortunes trace back to her husband's death, help is what she's going to get. Caleb's help…ready or not.
Warning: This title contains a two adults playing doctor. But that's okay, one of them is licensed to practice. A prescription for extra-strength Kleenex may be required.
Amazon | All Romance | Google | iBooks | Kobo | Nook | Samhain
~ ~ ~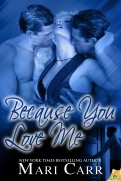 Because You Love Me
Safety in numbers? Depends on what you mean by safe…
Bridget Wilder's life is shot to hell—literally—when she witnesses the murder of her best friend, Lyle. Protective custody? What a joke. Time after time, someone has leaked her whereabouts, forcing her to run from one safe house to the next.
Tired of cold, lonely beds and living in fear, Bridget convinces her guardian cop she's safer off the grid, following Lyle's trail of clues to a missing flash drive that could put the killer behind bars.
It doesn't take twins Mark and Matt James long to figure out two things. Bridget's not only in trouble, she is trouble—they both want her. When things get a little hot and heavy one night, though, they're stunned to discover that they don't mind sharing. And she loves being shared.
Between the James brothers' hot, hard bodies, Bridget finally feels safe—and loved. When a hit man tracks her down, the last thing she wants is for them to place those bodies between her and danger. But those cowboys have other ideas. Like keeping her alive long enough to convince her she belongs with them. Forever.
Warning: Scary times ahead! An evil judge, a car chase, a hit man and more! Luckily, the rough times are soothed by lots and lots of ménage sex with two, red-hot alpha cowboys.
Amazon | All Romance | Google | iBooks | Kobo | Nook | Samhain
~ ~ ~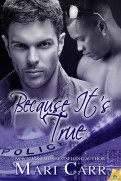 Because It's True
Sometimes there are only two choices. Love or leave…
Jacob James falls for Rodney the moment the New York City cop crash lands into his far-too-predictable ranch life. The sexy city slicker is everything a lonely Wyoming cowboy could ever dream of. When Rodney is shot in the line of duty, however, their off-the-charts attraction turns unexpectedly cool. Jacob offers the only thing he has left—friendship.
All Rodney can think about—besides his cowboy lover—is getting back to his job. But what good is a cop who can't fire a gun? While he's grateful for Jacob's support through months of grueling physical therapy, how can he offer anything more when his own future is so uncertain?
When he's finally cleared to return to work in New York, Rodney thought it would be the happiest day of his life. Except reaching his goal means leaving Jacob behind…and a future he never thought he wanted. Until now…
Warning: New York City cop meets Wyoming cowboy. Come on. You know that's going to be hot.
Amazon | All Romance | Google | iBooks | Kobo | Nook | Samhain