…Christmas! Today marks the release of Love Laughter and Merrily Ever Afters. TEN fun, romantic holiday novellas by ten New York Times & USA Today bestselling authors
An all-star gathering of some of today's most popular NYT and USA Today bestselling romance authors together in a fun-filled collection…holiday style! With the overwhelming response to the bestselling, chart-topping summer boxed set, we've brought together even MORE of your favorite authors for a winter compilation, and this time, we've giftwrapped TEN stories for your e-reading pleasure. From the funny & sweet, to the steamy & heartfelt, each novella is packed with a whole lot of romance, and hand-picked to infuse perfectly-portioned holiday cheer into your busy days this season…along with hot bursts of holiday steam for those winter nights.
And at just ***99 CENTS*** that's a huge savings of over 95% off retail for the individual books sold separately! This is an extremely limited edition bundle available for just 5 weeks so get your copy today!
THE BOXED SET INCLUDES:
IF I RETURN — by USA Today bestselling author Sawyer Bennett
WILD IRISH CHRISTMAS — by New York Times bestselling author Mari Carr
SEDUCING SANTA — by New York Times bestselling author Janelle Denison (aka Erika Wilde)
DECKING DREW — by New York Times bestselling author Violet Duke
FAIRIES & WISHES — by USA Today bestselling author Karen Erickson (aka Monica Murphy)
TWELVE DATES OF CHRISTMAS — by New York Times bestselling author Jessie Evans (aka J. Evans)
HOLIDAY SPIRIT — by New York Times bestselling author Cathryn Fox
UNWRAPPED — by New York Times bestselling author Melody Grace
A CHRISTMAS HEAT WAVE — by New York Times bestselling author Alannah Lynne
HIS CHRISTMAS WISH — by New York Times bestselling author Marquita Valentine

"Someone's sitting in the shade today because someone planted a tree a long time ago." – Warren Buffett

Jess Dee never fails to knock my socks off with her storytelling skills and her new Sunday Night Dinner Club series is no exception! If you haven't checked this series out, go take it a look! The next book, Table for Two, is out today. You won't be sorry.
Sunday Night Dinner Club, Book 2
James Elliot never meant to barge into his friend's bedroom, but now that he's caught an eyeful of Olivia Taylor, butt-naked, he can't seem to imagine her any other way.
Liv's world is falling apart. The goals she's worked so hard to achieve are crumbling. The only thing she can rely on now is the constant stability her friends provide.
But one of those friends is changing the dynamics of their relationship. James is whipping away everything that's familiar between them and replacing it with a sensuality and a passion Liv can't ignore.
With so much at stake, Liv has no time to fall in love—even if it's with her best friend. It's up to James to guide her through the toughest challenge of her life and show her that the light on the other side of the tunnel just might burn between them forever.
Warning: Contains all the red-hot loving you'd expect from a Jess Dee romance, and a sexy, sports-mad, muscle-bound alpha hero with a penchant for tossing his heroine over his shoulder.
(This book is the second in the Sunday Night Dinner Club series. Although each book stands alone, they can be better enjoyed read in order. )
Buy your copy today.

"If I had my life to live over, I would start barefoot earlier in the spring and stay that way later in the fall." – Nadine Stair

Somebody call the fire department because things just got HOT in here! Please, please, please tell me you've already bought this box set! EIGHT original erotic romance stories (with fire fighter heroes) by some of the biggest names in romance today! ONLY .99 cents!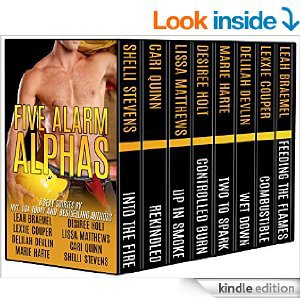 Men Hotter Than Fire!!!
Eight Scorching HOT Brand New Stories
Feeding the Flames ~ Leah Braemel: When chef Tabatha Morgan returns to Barnett Springs, her burning crush on firefighter Zac Buchanan flares back to life. Trouble is, Zac has made a promise to keep his distance from Tabby, so Zac's best friend and fellow firefighter Quinn decides to help feed the flames of their mutual desire.
Combustible ~ Lexxie Couper: Arson investigator, Desmond Russell is the best in Australia. Cool, calm and collected, nothing ruffles him. Until he meets Outback fire brigade captain, Jess Montgomery, a woman who ignites all his sexual desires. The initial spark will engulf them both…but will their hearts survive the inferno?
Wet Down ~ Delilah Devlin: Out with the old, in with the new…Or so Sherry Thacker thinks. Problem is, her ex is always on her mind and right across the street. When a "Wet Down" ceremony to retire an old fire truck is planned by the city council she has to put aside her hurt and anger and do her job. Blake Thacker wants his wife back—in every way and he'll use whatever means necessary to win her back. Sex is always best served WET.
Two to Spark ~ Marie Harte: When a psychic predicts that a faulty toaster, a black cat, and the wrong address will bring Cooper together with Ms. Right, he shrugs off the notion as crazy. But before long, fate has something else in store for the sexy firefighter when a spark of attraction ignites into true love.
Controlled Burn ~ Desiree Holt: Montana Wade was home after writing off the past ten years of her life, but she needed one more night of courage before she faced her family. Boone Crider, hotshot firefighter, was burned out form the rash of malicious fires. They thought one night as strangers would cure them both, but the fire they started between them soon became a barely controlled burn.
Up In Smoke ~ Lissa Matthews: Half-brothers, Josh and Jay, share everything from a house, to a love of curvy, older women. So when their dream woman accidentally sets her kitchen on fire, they ride to her rescue, sirens blaring, promising to kindle flames that may never be extinguished.
Rekindled ~ Cari Quinn: Some blazes refuse to be contained. It's been months since ex-firefighter Katie Kemp has spoken to her former lover and squad mate, Dash Carlton. But when a late night drive down memory lane leads her to a small fire at Dash's house, she realizes she's not willing to turn her back on the hottest flame of her life.
Into the Fire ~ Shelli Stevens: Shannon has always prided herself on holding her own in the male dominated field of firefighting. She likes to be in control. Until she strikes a bargain with a sexy man from her past who makes her give it all up in the bedroom.
Buy your copy today!

Bianca D'Arc has a fabulous release out TODAY!!! Did I mention…it's a menage! Gimme gimme gimme!
Love triangles are always more interesting when they come equipped with claws…and flippers?
Beau has anger issues, but not when he's around Jacki. The fierce tiger shifter has been following her around like a puppy, but she hasn't taken notice of him…until now.
No matter how long Geir has lived in the States, he's still the odd man out. A tiger shifter native of Iceland, he is a Master of his craft, training other warriors the skills he has perfected. When he sees Jacki for the first time, he knows she is the one for him.
Jacki is the privileged daughter of a prominent shifter Clan. Most of her relatives are lion shifters, so she knows how to handle cats on the prowl, but she is a much rarer selkie—a seal shifter—imbued with magic and surrounded by mystery…with a few more curves than her cat-shifter relatives.
When an opportunity arises to step into a key role in shifter society, Jacki is uncertain, but willing to try. And when she's told she doesn't have to choose between the two tigers, but rather, can have them both, she is more than intrigued. But someone is stalking their path and they must work together to nullify the danger, all while trying to figure out a complicated relationship that has all three of them questioning fate.
Warning: This story contains graphic language and menage a trois between two tiger shifters and one very special selkie woman. Rawr.
The String of Fate series consists of: Cat's Cradle, King's Throne, Jacob's Ladder and Her Warriors.
This series is related to the Tales of the Were, the Redstone Clan and the Brotherhood of Blood series, and takes place in the same contemporary, paranormal world. It shares some of the characters and situations between the series, but each main series follows a specific set of characters in a specific location.
The Tales of the Were consists of:
Lords of the Were
Inferno
Rocky
Slade
The Redstone Clan series consists of:
Grif
Red
Magnus
Bobcat
Matt
And the Brotherhood of Blood series consists of:
One & Only
Rare Vintage
Phantom Desires
Sweeter Than Wine
Forever Valentine
Wolf Hills
Wolf Quest
Buy your copy today!

"Though no one can go back and make a brand new start, anyone can start from now and make a brand new ending."  ? Anonymous

Tuesday marks the release of the next book in Rhian Cahill's fabulous Are You Game? series, Red Light, Green Light. Shall we play???
When the light turns yellow, it's time to step on the gas.
Are You Game?, Book 3
You never forget your first.
Truer words have never been spoken when it comes to Kelsey Newman's first love. Years spent ignoring the ache she feels for Weston Mann has done little to erase him from her mind and her heart.
The one that got away.
Ten years ago, West loved Kelsey enough to let her go when he realized he wasn't ready for the kind of relationship she needed. Watching her walk down the aisle with another man cut deep. But West is a quick learner, and he never makes the same mistake twice. Now that she's free, he plans to make up for lost time.
A love that won't stop.
Kelsey isn't ready to give West a green light, and he refuses to accept the red ones she's given him. With each stop and start of their seesawing relationship, she finds herself falling for him all over again. Except it's hard to trust her heart to a man who once told her he didn't want it.
Warning: Story contains a reluctant heroine, a determined hero, an ex who doesn't want to stay exed, and a love that knows no limit—speed or otherwise.
Preorder your copy today!

"If you don't go after what you want, you'll never have it. If you don't ask, the answer is always no. If you don't step forward, you're always in the same place." – Nora Roberts

"A successful marriage requires falling in love many times, always with the same person." – McLaughlin