This month, I'm participating in a March Madness Hop! There are lots of awesome authors participating and some really amazing prizes so I hope you will hit the court with us for some "ball-handling" and "slam dunks"–pun intended! LOL. Click on the banner above and it will take you to the blog homepage.
The contest runs from now until the end of March, so I thought it would be fun to fill in my own little 2013 bracket. Here's the game…each Tuesday (March 5, 12, 19 and 26), I will pit two of my 2013 releases against each other, sharing blurbs, covers and excerpts. All you have to do is choose YOUR winner…select the book you think sounds the best based on what I've provided. If you've read the books and want to vote that way…that's cool too. I will choose a winner from each week's commenters at random and that person will win their choice of book from my backlist (print or ebook). That's right! One prize a week. Four winners this month!
So…without further ado…here are this week's contestants…
Contestant 1 – Elemental Pleasure
Trinity Masters, book one
There is passion and power in three…
When Carly Kenan joined the secretive Trinity Masters in college, she knew that she'd have to pay. That day has come. Returning to Boston, Carly meets former Marine Lance Glassco, a mathematician for DARPA, and Preston Kim, a celebrated chemist. Though on the surface they have nothing in common, it's clear the Grand Master thinks that together the three of them can do something amazing. And that's why he's declared that Carly, Lance and Preston must unite. In a ménage.
Tempers flare as they struggle to understand each other, but their physical attraction is explosive, and the sex leaves all of them begging for more. Pushed beyond her limits, Carly runs from Lance and Preston. What she doesn't understand is that she now belongs to them, body and soul…and they belong to her. When Lance uncovers a dangerous crime at Preston's company, Carly is caught in the crossfire and the struggling lovers are forced to move beyond desire…to trust.
The Trinity Masters have the power to make careers and change lives, but there's a price. Members know that the day will come when the Grand Master will select them, and pair them with two others. For the Trinity Masters the strongest bond isn't a pair, but a threesome.
Elemental Pleasure is available at Amazon, Barnes and Noble and Smashwords.
Excerpt:
Chapter One
She'd made a deal with the Devil, and now the Devil had called to collect.
Carly Kenan pulled her scarf up around her neck. At home in California, it was a sunny seventy degrees, but in Boston, early March still meant winter. The wind whipped down Boylston Street as she stood outside the imposing Boston Public Library.
Carly rubbed her cheek against the baby soft cashmere of her scarf. It cost more than her parents had made in a month when she was growing up. Those days were long gone, thanks to a deal she'd made nearly ten years ago. With her dark hair pulled up in an elegant chignon, a black wool coat, cream scarf and knee-high black boots, she looked exactly like what she was: a beautiful, successful woman.
Had it been worth it? Her success had surpassed even her wildest dreams, but it had come at a price. Now it was time to pay up. She wouldn't know if it had been worth it until she walked inside.
The city moved around her, everyone with somewhere to go, something to do. Another minute ticked by, but Carly couldn't bring herself to mount the steps and face the consequences of her achievements. Someone bumped her, forcing her forward a step, and she hitched her designer bag higher. The man who bumped her, chatting away on his phone, turned to glare. When he caught sight of her, he stopped mid-word, managed a smile, then slunk away.
She mounted the steps. It was something she'd done a hundred times before while a student at Harvard. A computer science major, the public library had always been a chance for her to get away from her electronics, and to honor the lineage of the scholars and inventors who had been trailblazers to the world she knew.
And in her junior year, the library had started to play a new, secret role in her life.
The grand hallway with its arched, illustrated roof was bustling with people, though the noise was muted. It was the hush of a library. The heels of her boots clicked against the stone floor as she made her way to the elevator. She rode it to the top level where there were fewer people. By the time she reached the rare book room, she was alone in the quiet hallway that smelled of books and secrets. There was a keypad on the door. She paused, realizing the Grand Master's instructions hadn't included a code. Surely it wasn't the same one the society had used when she was in college.
Pulling off her leather glove, she folded and tucked it into her pocket. As she reached out, she noticed her fingers were trembling. She curled her hand into a fist, willed herself to be calm, then pressed the numbers.
333
There was a click as the door unlocked. Carly turned the handle and let herself in, careful to close the door behind her. The code was the same. She wondered what else would be unchanged.
The rare book room was small, with each rack dedicated to a subject. There were a few tables, each with a box of cotton gloves placed precisely in the center, so the rare books could be handled without picking up corrosive oils. Behind a section containing maps and diaries said to belong to members of the semi-secret Masonic Temple was a section of wall with a triangle inscribed into the plaster. She touched her scarf, which hid the chain she wore with the same symbol hanging from it. Below the triangle were three words. "Mitimur in Vetitum."
"We strive for the forbidden," she whispered, tracing the words.
Her stomach clenched. She was terrified of what she'd find beyond that door, of what she'd discover in the temple of the Trinity Masters.
With their help, Carly's company was now one of the fastest growing in the industry, and at only thirty-two, she was well on the way to becoming very, very wealthy.
Taking a deep breath, she placed both hands on the triangle relief and pushed. A section of wall popped in and then slid to the side, disappearing into a pocket. She passed through and waited in the darkness on the other side as it shut, sealing her inside.
Once the door was fully closed, the lights clicked on.
The small foyer was exactly as she remembered. The room was small enough to be mistaken for a closet if anyone who was not a member found their way in. The walls were paneled wood, the floor covered with the same carpet as the outer room. An empty book cart took up a third of the space. Turning to her right, she examined the panels. Numbers were etched into the wood, seemingly at random.
The Grand Master's instructions said she was to open box thirty-one. Pressing her finger against the number, she felt a click. When she pulled her hand back, a small tray popped out of the wall. Reaching in, she retrieved a key and a piece of paper.
You'll find garments in Room C. Right hand corridor.
Wait until you hear the bell.
-Grand Master
The note was written by hand. Carly shivered a little. The Grand Master was the head of the Trinity Masters and a man of unspeakable power and influence. No one knew who he was, though there were plenty of rumors. At the Trinity Masters annual gatherings, meetings hidden inside library benefit galas, Carly had done her share of gossiping about who he might be.
Now she wasn't curious, she was afraid.
Note and key in hand, she moved the cart out of the way and—with another push—opened the door hidden in the back wall. It revealed a narrow elevator. When she pressed the button, the door opened and Carly stepped in. She took a moment to gather herself as the small elevator took her down to the sub-basement. When it stopped and the door slid to the side, she bit the inside of her cheek to center herself.
A long marble hallway stretched out in front of her. Columns supported the double-high arched ceiling, which was a smaller replica of the grand hallway above. Her footsteps rang as she made her way along the hall, the sound bouncing off the walls to echo down to the grand double doors at the far end. There were no books here to muffle the sound. At the midway point, there were openings in the walls, one to the right, another to the left. She'd been down the left hallway before. There were changing rooms there, elegant as the locker rooms in a fancy spa. For ceremonies, all members wore robes to protect their identities, and those with the most need for secrecy had private dressing rooms.
As she turned right, she wondered if that was where she was going—to a private dressing room. Now that she had been called to the altar by the Grand Master, she supposed she'd earned a private dressing room.
After all, she was about to meet her husbands.
Or maybe it would be husband and wife.
Her hands shook, and it took her a few tries to get the key into the lock on Room C. Once in, she found a small, but well-appointed room. A white robe waited on a hook. Normally they wore gray.
Setting her purse on the vanity, she touched the robe. "It's like a wedding dress," she whispered to herself.
It would be the only wedding dress she'd ever wear.
In exchange for the Trinity Masters' help, she'd given up her future, specifically her choice of whom she would marry.
Throughout history, the world had been secretly controlled by relationships that defied societal standards. Some of those relationships had come to light, the most famous of which had been Vice-Admiral Horatio Lord Nelson, who'd been in a relationship with Lady Emma Hamilton and Sir William Hamilton. The gossip papers of the nineteenth century had called it an affair between Lady Emma and Lord Nelson, but it had been so much more. The three-way union between them had helped end the Napoleonic Wars, and both Emma and William had mourned Lord Nelson after his death.
The Trinity Masters believed that when three people were united, it created a bond far stronger than the pedestrian two-person marriage, and that these triads—if made between those with power and intellect—had the capability to change the world.
Carly slid out of her clothes, leaving on the corset-bra, panties and garter set she'd bought especially for today. She closed her eyes, trying to still her nerves.
She'd joined the Trinity Masters at nineteen, when the idea of some crazy secret ménage marriage had seemed exciting, elicit. In her twenties, she'd enjoyed herself, knowing there was no need for her to worry about falling in love or getting married. By the time she was twenty-eight and her friends were married, some expecting children, she finally understood what she'd really given up in her quest for success.
However, the consequences of crossing the Trinity Masters were too dire to contemplate, and so here she was, waiting to meet the people she'd share the rest of her life with. That thought sent another shard of panic through her before she beat it down.
She checked her hair and makeup in the mirror, then raised the hood and tugged the chain out from under the robe so it lay on her chest in plain sight, the triangle glinting in the low light. Carly had never shirked from a challenge…or a commitment. She wouldn't begin now.
Taking a seat on a velvet chair, she breathed deeply, trying to calm herself.
A bell rang, the deep sound vibrating through her. She looked up as a door in the wall opposite where she sat opened.
Rising to her feet, Carly threw back her shoulders, lifted her head and walked through.
VERSUS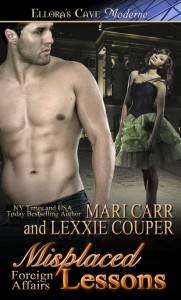 Contestant 2 – Misplaced Lessons
Foreign Affairs, Book Three
Fantasizing about forced sex with a stranger is one thing—waking up to find a scruffy man binding you to a bed is quite another. Amy fights him, until she realizes her friend Harper must have set up the sexy scenario. They've swapped lives, with Harper flying to Australia and lending her Chicago home to Amy. While she's surprised Harper would go to such lengths to help her fulfill a fantasy, Amy figures…why not?
After days of nonstop travel, Andrew arrives at the home he shares with his sister, Harper, with sleep on his mind—until he finds a naked intruder sleeping in his bed. Subduing and binding the beauty, he assumes she's the blind date his pal Mike had tried to set him up with. But would Mike actually sneak the woman into Andrew's house? Seems so. And he's not one to turn down such a gift.
By the time each has learned the other's true identity, Amy and Andrew have shared the most intense sexual experience of their lives. And they certainly don't want to stop now.
Misplaced Lessons is available at Ellora's Cave, Amazon and Barnes and Noble.
Excerpt:
"I'm not going to hurt you." His words sounded ridiculous even to himself. He'd gagged her and was now straddling her naked body, holding her legs to the mattress with his own after tying her to the bed. Regardless of who she was or why she was there, she'd be insane not to be afraid of his intentions.
She twisted her head, trying to dislodge the shirt from her mouth.
"If I take it out, do you promise not to scream?"
She blinked rapidly then nodded her assent.
He pulled the material away, ready to replace it if she broke her vow.
"Untie me."
"No." Andrew reached up to touch his tender cheek, his fingers finding the raised welts she'd put there with her long nails. "Who are you?"
Her breathing was labored, coming in hard pants after their fight. Even so, her gaze hardened and he knew she wouldn't talk.
Something inside him cracked. He'd been traveling for days, stealing only a couple hours sleep here and there. This woman had broken into his house. She had some nerve acting like he was the villain. By God, he'd make her talk.
"I'll give you one more chance to answer my question. Tell me who you are or you won't like the consequences."
She stilled beneath him, her intelligent gaze sizing him up. He should climb off the bed and call the cops. If he was in his right mind, that's exactly what he'd do. Having her arrested would certainly be the kinder response. As it was, he wasn't in the mood to be merciful.
Instead of answering, she threw his question back at him. "Who are you?"
"None of your business. Give me your name. Now."
She bit her lip nervously. "I'm Amy."
Amy? Mike's Amy?
Andrew leaned back on his haunches, his mind whirling. Had Mike set this up? Past experience had obviously convinced his friend he'd never consent to a blind date. But would Mike actually go so far as to throw this woman into his bed?
Andrew knew the answer. It was more than possible. It was actually quite probable. Mike had the extra key to the house. He knew Harper was away and Andrew was back in town.
Andrew recalled a lifetime of little surprises his best friend had tossed his way. The high-class call girl who'd shown up at his door on his twenty-fifth birthday. The so-called conference that had really turned out to be an impromptu weekend trip to Vegas, complete with nonstop gambling and a private show with five of the hottest strippers Andrew had ever seen. Or this past year when Mike had managed to score tickets to the Super Bowl, but told Andrew they were headed to Indianapolis for his cousin's bachelor party. He'd let Andrew bitch for three hours in the car about missing the big game, only letting him in on the surprise when they'd reached the entrance to the stadium.
Mike was the master of the unexpected, so it wasn't farfetched that his friend would go to this extreme in a hookup. It would also explain his friend's easy capitulation when he refused to go on a date with the woman earlier. Mike didn't push the issue because he knew Amy was already here.
He grinned as his annoyance lifted. Amy was beautiful and feisty, with a hot accent. Australian, if he wasn't mistaken, though he'd need to hear her say more before he could be sure. His best friend knew he was a sucker for a girl with an accent. For the second time in one night, it looked like Mike was going to be able to say, "I told you so."
And since Mike had gone to so much trouble, far be it from Andrew to look a gift horse in the mouth.
SO…place your bets in the comments section. Simply say contestant 1 or contestant 2. If you want to explain your vote, that's fun too. I will announce this week's winner on March 12, along with the next contestants. Let the games begin!
March 5th, 2013 at 1:00 am
38 Responses to "March Madness – Week 1"
Leave a Reply