February is an exciting time around here as I kick off a month of romantic releases! Ready for love? Passion? Really hot sex? Then check these stories out!
Today marks the release of two books!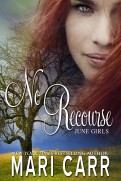 No Recourse 
I am re-releasing the June Girls series starting today. This is the very first book I ever wrote and it owns a very big piece of my heart. Captain Jack is one of my all-time favorite heroes.
June Girls, book one
Who says lightning doesn't strike twice?
When Hayley Garland finds herself out in the English woods late one night, she's nearly struck by lightning during a freak storm. But what she thought was a near miss is actually a direct hit.
Captain Jack Campbell is riding along the Dover shoreline, cursing his ill-timed trip in a torrential downpour. Before he can find shelter, he discovers something much more interesting: a beautiful redhead.
Sparks fly whenever Hayley and Jack are together—in and out of the bedroom. But between a wicked earl, a missing woman, Hayley's penchant for finding trouble, and the inconvenience of an unexpected trip through time, they have to find a way to work out their differences before events from the past threaten to take away their future.
This book was previously published and has been revised from its original release.
No Recourse is available at Amazon, Barnes and Noble and Smashwords.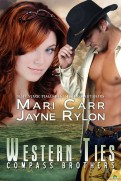 Western Ties – Now in print!
How strong are the ties that bind?
Sawyer Compton commands total control in his life, inside and outside the bedroom. When he spots Compton Pass girl Leah Hollister in a BDSM club in Los Angeles, he knows exactly how the night is going to end—with her as his submissive. He's always wanted Leah, but didn't think she could handle in his darker urges.
Leah travels to L.A. to confirm her suspicions about her sexual desires. She certainly couldn't explore her desires for bondage and pain with someone from her small hometown. Her plans are shot to hell when Sawyer—her girlhood crush—claims her for the weekend. She didn't expect to enjoy the comfort his familiarity brings, even as his touch takes her to heights of pleasure she'd only imagined.
When life kicks him the gut, Sawyer struggles with the unfamiliar feeling of helplessness. Luckily, Leah is more than prepared to offer him everything he needs to recover—her body, her friendship and her heart.
Question is…will Sawyer relinquish control and accept her love?
Warning: Invest in tissues. Lots and lots of tissues. Between spicy, set-the-sheets-on-fire bondage romps and the last Compass brother coming home–you'll need them.
Western Ties is available at Samhain, Barnes and Noble and Amazon.
Then…on Valentine's Day, I will be re-releasing Mad about Meg.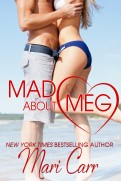 Mad about Meg – Feb. 14
She'd never been lucky in love…until she met him.
If it weren't for bad luck, Meg Williams wouldn't have any luck at all. As if traveling to a tropical island on Valentine's weekend in a nasty storm isn't bad enough, she's doing it alone after finding her boyfriend in bed with another woman. Enduring the trip from hell, she arrives on Eden Isle only to discover that her hotel reservation has been lost and there are no vacancies anywhere on the island. Disheartened, Meg heads for the hotel bar.
Rob Madison is used to being in the limelight due his wealth and power. Used to being pursued by women for his fortune. When he meets Meg and realizes she doesn't know who he is, he decides to spend the evening as a regular guy. Discovering she doesn't have a place to stay, he offers to share his penthouse with her.
As the night progresses and their mutual attraction becomes apparent, Meg wonders if her luck has turned, while Rob wonders if one weekend in each other's arms will be enough…
This book was previously published. It has been revised and is connected to the Lowell High School series available at Ellora's Cave.
Mad about Meg will be available at Smashwords, Amazon and Barnes and Noble.
And FINALLY…I'm thrilled that the first book in the new Compass Girls series I am co-writing with Jayne Rylon, Winter's Thaw, will hit the shelves! And believe me, after the snowy, cold winter I've been enduring, I'm ready for a little thawing.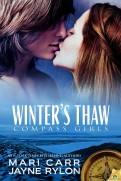 Winter's Thaw, book 1 of the Compass Girls – coming February 19
Sometimes life doesn't go according to plan. Sometimes it's better.
Sienna Compton has it all figured out. Her life's goals are set and it is all systems go. At least, it was. Until her long-time boyfriend Josh threw a ringer into the master plan, requesting a "break" from their relationship. Now she's left alone during the long, cold Wyoming winter, questioning what her heart has always believed to be true love.
Daniel Lennon is facing an uncertain future. When a tragic accident leaves him unable to pursue his career as a professional bull rider, he finds himself at Compass Ranch, working to help Sienna's father, Seth, build his horse breeding business. One look at Sienna has Daniel envisioning things he never imagined wanting—a permanent home, love, marriage—and he's willing to use all the red hot tricks in his sexual arsenal to melt the ice surrounding Sienna's broken heart.
When lust turns to genuine emotion, can Daniel convince Sienna to take a chance on something different and unexpected? Can he persuade her to consider a new path, one that will lead her directly to his arms…forever?
Warning: Roping and riding, past and future, cold winter and fiery desire, lust and love all come together in this new Compass series. Saddle up and hang on. The Comptons are back! 
Winter's Thaw is available for preorder at Samhain, Amazon and Barnes and Noble.
February 5th, 2013 at 8:26 am
One Response to "February is for Lovers…"
vanetta Says:


OMG!!! I can't wait! Ordered western ties! I love that series and now here comes the girls! WHOO! can't wait to see what's in store for them or rather us!

February 5th, 2013 at 8:57 am
Leave a Reply