I'm very sad to say my summer actually ended in August when I returned to work. So…today's theme is definitely a painful one for me. LOL. In the Just Because trilogy, Gay Fest marks the end of summer, so I thought I'd share a snippet from Because It's True.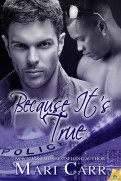 Snippet:
"Hey, Jake! When's the karaoke?" Jessie joined them. "You promised me a song."
Jacob's troubled look morphed into a smile that fooled his future sister-in-law. Rodney, however, could see the strain on Jacob's face. He felt guilty for dimming his friend's joy in the party.
"Song?" Rodney asked.
Jessie took a swig from her beer. "Jacob told me this afternoon he'd planned a special wedding song for Caleb and I. Bridget and I have a bet on which ABBA number he'll be performing."
Jacob looked like singing was the last thing he wanted to do right now, but he put on a good face. "Who said anything about it being ABBA?"
Jessie laughed. "Nice try, but I know you. It'll be ABBA. Get up there. I want my song."
Jacob looked around at the crowd. "I'm not sure everyone's tipsy enough for karaoke. You know you have to time these things just right."
It was a dodge. The partygoers were well into the making jackasses of themselves stage of the night. Jacob's reluctance was his fault. Rodney was anxious to put the party back on track. "I don't know what number you planned to sing, but could we make it a duet?"
Jacob's heavy look slowly faded. "You'd get up on stage and sing with me?"
The idea actually made him slightly nauseous, but he owed it to Jacob. "Of course I would. How else am I supposed to go wild?"
Just like that, Jacob's smile returned. "Awesome. Come on."
He took Rodney's hand and led him to the stage. "Jessie was completely right about it being ABBA. I was going to start the night off with this song. Do you know it?"
He pointed to the list of song choices in a binder, showing Rodney his choice. Rodney closed his eyes, suppressing a groan. "Jesus. Really?"
"It's perfect and you know it."
Rodney wanted to deny it, but it was pointless. It was the perfect song for the occasion. Jacob led him to the stage and handed him a microphone. A large group began to gather around, cheering when Jacob announced the beginning of karaoke, a tradition at Gay Fest.
He pointed to Matt, who was manning the technology, to cue up the song. Matt gave his brother the thumbs up, indicating he was ready.
"This first song is dedicated to my big brother, Caleb, and to the woman who is too smart to settle for him, but is still willing to hitch her cart to his horse, Jessie."
The crowd laughed.
"And also to my best friend, Rodney, who has his own personal reason to celebrate tonight. He's going to help me sing it."
Rodney was touched by the compliment. Though they'd only known each other a short while, Jacob had become his best friend as well.
Matt pushed play on the canned music and the first strains of ABBA's "I Do I Do I Do I Do I Do" filled the backyard. Rodney's gaze never left the monitor feeding the lines to him through the first verse though he knew the song by heart. His mother had dragged him to see Mamma Mia the first year it released on Broadway. After that, she'd worn out her CD of the soundtrack, subjecting him to more ABBA than he'd ever hoped to hear in his lifetime.
The crowd's enthusiastic reply and Jacob's crazy dancing made him bolder and Rodney soon loosened up, throwing out a couple of Elvis's signature gyrations. Bridget stood in front of him, laughing and cheering him on. He grinned, having far too much fun until he turned to look at Jacob.
Suddenly the screaming crowd faded away as he fell into Jacob's bright blue eyes. Neither of them needed to look at the monitor, so their attention remained only on each other.
The lyrics took on a new meaning for him as they sang. The song was an outright declaration of love, but he and Jacob didn't bother to hide from that or look away. When Rodney sang the words 'Cause it's true, he realized his feelings weren't going to go away no matter how hard he tried to ignore them. The truth was he'd fallen hopelessly and madly in love with Jacob James.
The song ended and the partiers went wild. Jessie hopped on stage and gave Jacob a kiss on the cheek, then hugged Rodney, thanking them both.
Jacob announced the next singers, handed over the microphones, then took Rodney's hand. It probably looked like an innocent gesture to the bystanders watching, but Rodney felt raw need coursing through him. He was moving in slow motion as Jacob led him farther away from the party. The noise began to fade. They were nearly to the side door that would take them into the ranch's kitchen before Rodney stopped.
"Jake, wait."
Jacob turned to face him. "I don't want to wait until tomorrow to have this talk, Rodney. I just don't."
Rodney shook his head. "You don't understand. If we go inside that house, we're not talking. We're going to your bedroom."
Jacob didn't respond, but there was no denying the longing on his face.
"Fuck it. Come on. You'll get your talk, Jacob. I can promise you that. But you're going to get a lot more than that too." Rodney tilted his head toward the backyard. "Can they do without you for a few hours?"
Jacob nodded. "My brothers will keep things rolling. Caleb just waved to me as we left the stage. He knows I'm gone. He'll take care of everything."
"Good." Rodney was finished with the discussion, the denials, the waiting. For the first time in months, his life was moving forward. He wouldn't resist. It was time he let the tide take him where it would. Better to drown in Jacob's arms than die alone on dry ground.
Because It's True is available at Samhain, Amazon and Barnes and Noble.
Want more snippets?
Rhian Cahill
Anne Rainey
McKenna Jeffries
Myla Jackson
Taige Crenshaw
Delilah Devlin
Lauren Dane
Shiloh Walker
September 22nd, 2012 at 1:31 am
Leave a Reply