It's the last Saturday of the month, so you know what that means. This week, we can "Say Anything." Today I thought I'd share a snippet from one of my older books, Spitfire. It's part of my trilogy of cowboy quickies over at Ellora's Cave.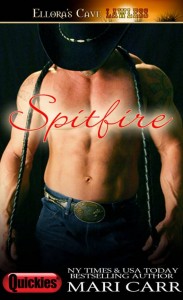 Snippet:
"What I want from you, Liv, what I need…it isn't tame and easy. I'm going to claim you, take you, make you mine in every sense of the word."
She gasped at his terrifyingly sexy threat as he bent down to kiss her. His lips grazed hers lightly, a sharp contrast to the heated, hungry kisses he'd given her in the truck and to his words.
"I want to finish the kiss my father interrupted all those years ago." He dragged his lips gently along hers and she was struck by the sensation that he was offering her a real first kiss. Had he known she'd never been kissed by a boy that day she'd cornered him? His lips continued to dance against hers with an innocence, a sweetness that took her breath away, destroying her ability to resist him. She'd wanted him forever and she was disappointed when he pulled back.
"I owed you a decent first kiss," he said, grinning down at her.
She fought back a groan as he stepped away from her, pulling a crate to the center of the room and sitting down.
"You know I wouldn't mind a second and third kiss," she said, returning his smile.
After years of being ignored and pushed aside by him, she should be telling him to take his kisses and shove them where the sun don't shine, but she'd wanted him far too long. Besides, what if he took her words at face value and she had to wait another decade or so for him to make another move? She may be a bit miffed, but she wasn't stupid.
He beckoned her over to him by crooking his finger and she went willingly. He grasped her hips when she stopped a few feet away and pulled her closer. His face was eye-level with her pussy and she fought to catch her breath at the intimacy of their positions. She closed her eyes and silently prayed that no matter what happened tonight, he wouldn't stop. She'd gladly pay the piper tomorrow for one night with Rem.
"Pull down your pants," he demanded.
Spitfire is available at Ellora's Cave, Amazon, Barnes and Noble, Sony and All Romance Ebooks.
Want more snippets?
Megan Hart:Read in bed!
Leah Braemel
Jody Wallace
Eliza Gayle
Mandy M Roth
Lissa Matthews
McKenna Jeffries
Myla Jackson
Taige Crenshaw
Shiloh Walker
Delilah Devlin
HelenKay Dimon
Lauren Dane
Shelli Stevens
July 28th, 2012 at 1:20 am
One Response to "Saturday Snippet"
Suzanne Says:


I love a cowboy who takes control. Looks like their relationship had been 10 years in the making. I wonder what happen next? Guess I'll get the book and find out! Thanks for sharing.

July 28th, 2012 at 11:53 pm
Leave a Reply