Reunited and it feels so good. Nothing makes for good reading like a red hot make up scenes. Today's snippet is from Slam Dunk.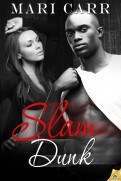 Snippet:
She picked up a napkin from the table, twisting it in her hands. "But I have done something like that before and I nearly destroyed my career in the process. I made an ass of myself and I'm so afraid…"
Her words drifted away, but she didn't need to continue. Trey knew what she was scared of. Knew there was a day of reckoning coming for Ellie. For both of them. Whether she was ready to admit her feelings or not, Trey had long ago accepted that he was head over heels in love with her and—colleagues or not—he intended to pursue a relationship, love, rings, kids. The whole shebang.
But not tonight. Tonight, she needed a break from the emotions, time to sort out her hurt feelings over Joel and her confused feelings for him.
He stood and reached down for her hand. "Dance with me."
Ellie let him lead her to the floor, wrapping her arms around his neck and stepping closer as the Little River Band song "Lady" played. Dancing was something he suspected they'd always share. Both of them content to lose themselves in the music, the soothing rhythm.
Ellie sighed. "My mom used to listen to this song all the time."
Trey laughed. "That's because it's the whitest song on earth."
Ellie giggled and put her head against his chest. "Ah, that must be why I like it so much."
Trey swayed slowly, savoring the feeling of her. His life never felt quite as right as the moments when she was with him, in his arms. She still hadn't said she loved him, but Trey was hopeful. They faced a long road and there was a hell of a lot more to say, but whether Ellie knew it or not, she'd taken a step toward him tonight. Not away.
She'd come to Tully's to talk to him rather than her usual cut-and-run. It gave Trey hope and for the moment, he was happy. They'd sort out the rest later.
Slam Dunk is available at Samhain, Amazon, Barnes and Noble, Sony, Kobo and All Romance Ebooks.
Want more snippets?
Megan Hart:Read in bed!
Leah Braemel
Jody Wallace
Eliza Gayle
Mandy M Roth
Lissa Matthews
McKenna Jeffries
Myla Jackson
Taige Crenshaw
Shiloh Walker
Delilah Devlin
HelenKay Dimon
Lauren Dane
Shelli Stevens
July 7th, 2012 at 1:18 am
Leave a Reply