Just Because?
Yesterday, Because It's True released. It was the third and final story in my Just Because series. I thought I'd share little inside facts and an excerpt from each of the three stories with you today.
Because of You came out in August 2009. When I wrote the story, I intended for it to be a single title, but then…these brothers arrived on the scene. I tucked them away, in the back of my mind, because at the time…I'd committed to write about this other family (the Collins clan of Wild Irish).
Because of You had 4,785,485 working titles. I honestly feared that book would NEVER have a name. Let's see…it was called Love's Recovery originally, but my editor didn't like that. We toyed with Finding Jess, then Revealing Jess, then way too many others that were instantly rejected. My mom actually came up with the title Because of You. We were jogging together at the time and my lack of title was driving me nuts. We bounced around ideas as we bounced around on the pavement. The second I heard it, I knew it was right. My editor agreed.
The story came to me in the middle of the night. Well…actually…just one scene did. It was the image of a woman waking up in the hospital after a car accident. She receives some very sad news. I remember waking up that night with tears in my eyes. Then…I did what I always do. I got up and wrote it down. From there, the rest of the story formed.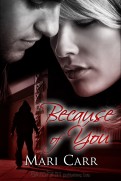 Because of You
Sometimes what you're looking for is closer than you think.
Jessie's life is a mess. Her husband died in a freak accident, she's been mugged, her house trashed, and she's receiving some frightening pranks calls. In an attempt to leave her misfortune behind she takes a vacation and meets Caleb James, a dedicated ER doctor.
The attraction is immediate, but Jessie's heart was lost when her husband died. Until she finds it again, she's not ready to commit to anyone new. When it becomes apparent her bad luck is all connected to the death of her husband, Caleb decides—ready or not—Jess needs help…his help.
Warning: Reading this book may cause the following side effects: laughter, tears, moments of heart-racing fear as well as that 'hot and bothered' feeling. Prescription: Grab a box of tissues and take a cold shower…stat!
Excerpt:
She shrugged and closed her eyes. She was a master at controlling her tears, yet here with Caleb it seemed harder to do. She'd managed to push her pain deep inside her and she even found it easier of late to discuss Tommy's death. Tonight, whether it was the alcohol or her tiredness or Caleb's compassion, the emotions were threatening to bubble over and she refused to let that happen.
"Well, I suppose I managed to bring tonight's fun level down. That's me—the official ruination of all parties," she tried to joke. She pulled her hands out of his comforting grip and went back to the counter. "Do you like cream and sugar in your coffee?"
"No, I drink it black and Jessie, you didn't ruin anything. You're going through a damn hard time right now, dealing with something no one should ever have to deal with. Don't be so hard on yourself. I wish I could give you an easy fix, but I'm afraid nothing except time will cure this."
She grinned over her shoulder, determined to return to the easy banter they'd enjoyed all night. "That's quite a bedside manner you have Dr. Caleb," she said flirtatiously.
He laughed softly. "Oh yeah, I'm a master at bedside—" He paused mid-sentence and she was surprised when he walked over to her and placed his hands on her cheeks. "Christ, Jess. I want to kiss you so badly it hurts."
"So kiss me," she whispered, uncertain where the words had come from, his and hers. From the second he touched her face, she wanted him with a passion she'd thought long gone.
He leaned down and took her lips gently, sweetly, but she refused to be patronized, treated with kid gloves. She was a living, breathing woman and she wanted him. Wanted him beyond reason, beyond care.
She reached up, gripping his hair in her fingers roughly, pulling his face more firmly to her. She opened her mouth and welcomed his tongue, before pushing it out of her way to explore his lips, his teeth with her own.
He moved his hands down to her waist, his grip stronger, more certain, more controlling. She was giving him everything her broken shell of a body had left to give and she sensed he was more than ready to take her up on the offer.
Because of You is available at Samhain, Amazon, Barnes and Noble, Sony, Kobo, Fictionwise, and All Romance Ebooks.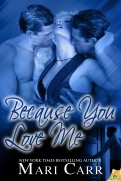 Fast forward to Jan. 2012…yep…three long years have passed, but I've finally laid my Wild Irish series and the Compass Brothers to rest, so I have time to get back to my original cowboy family–the James brothers! Because You Love Me had been in my head since I put the epilogue of Because of You down. In fact, I allude to the fact the twins, Matt and Mark, are going to be fighting over the city-girl Bridget.
I'll confess…I'm love writing contemporary romances and I adore romantic comedy. However, romantic suspense is tough for me! I love reading it, but dayum…writing a compelling mystery while weaving in a romance with lots of sex is tough. I spent HOURS trying to figure out the coded clue Lyle left behind for Bridget. Literally hours! The puzzle-lover in me got a kick out of it, but the fast-writer side of me struggled with the fact the words weren't coming as quickly as usual. I can't tell you how relieved I was whenever I hit a sex scene! LOL
The title for Because You Love Me came easier. I knew I wanted it to start with Because and I wanted another song for the title. Because of You is an awesome song by Kelly Clarkson and Because You Love Me by Jo Dee Messina is a beautiful song I was introduced to through another erotic romance book called Ice Queen by Joey Hill. God–I LOVE that book. I've probably read it a hundred times. In the story, she mentioned that song. Music freak that I am, I immediately went out and downloaded it on my iTunes.
Because You Love Me
Safety in numbers? Depends on what you mean by safe…
Bridget Wilder's life is shot to hell—literally—when she witnesses the murder of her best friend, Lyle. Protective custody? What a joke. Time after time, someone has leaked her whereabouts, forcing her to run from one safe house to the next.
Tired of cold, lonely beds and living in fear, Bridget convinces her guardian cop she's safer off the grid, following Lyle's trail of clues to a missing flash drive that could put the killer behind bars.
It doesn't take twins Mark and Matt James long to figure out two things. Bridget's not only in trouble, she is trouble—they both want her. When things get a little hot and heavy one night, though, they're stunned to discover that they don't mind sharing. And she loves being shared.
Between the James brothers' hot, hard bodies, Bridget finally feels safe—and loved. When a hit man tracks her down, the last thing she wants is for them to place those bodies between her and danger. But those cowboys have other ideas. Like keeping her alive long enough to convince her she belongs with them. Forever.
Warning: Scary times ahead! An evil judge, a car chase, a hit man and more! Luckily, the rough times are soothed by lots and lots of ménage sex with two, red-hot alpha cowboys.
Excerpt:
"Goin' somewhere, darlin'?" Mark drawled.
She was well and truly stuck. "Doesn't look like it."
"That's right," Matt agreed. "You made a bet, so it looks like you'll just have to stick around a couple more days to make good on it."
"I wasn't aware that I was working with a handicap taking on Todd and Steven as my partners. You cheated."
Mark chuckled. "Didn't peg you as the type to renege on a bet."
"I'm not going back on my word. I'm simply saying you knew the cards were stacked against me and you still pressed for the wager."
Rodney turned to look at her. "Wager?"
Mark saved her from answering. "Deal was if we won, she'd let us teach her how to ride a horse."
Matt pulled her closer. "We'll start first thing in the morning. Takes a while to get the hang of it though, so y'all might have to put off leaving for a couple days."
She expected Rodney to lose his temper over her foolishness. What she did not expect was for him to shrug as if he didn't have a care in the world. "That's fine. No rush." He glanced at Jacob. "Want some help making that coffee?"
She grinned at her friend's transparent new attitude, especially when he checked out Jacob's ass as they followed Steven and Todd to the kitchen.
She turned around to gloat about the hookup, but Mark held up his hand. "Don't even say it. You were right. A man would have to be blind to miss the sparks flying between those two."
"And you guys are okay with that?" She was surprised to discover two hardcore alpha cowboys living in the heart of the West who weren't squicked out about their brother's homosexuality.
Matt shook his head. "We've known about our brother's sexual preference for a very long time. Had plenty of time to get used to the idea. It's not a life I'd choose for myself—I like boobies too much—but if he's happy, I'm happy."
Bridget laughed. "You like boobies, huh?"
He nodded. "I like your boobies."
She swatted playfully at Matt's arm. "You need to keep your eyes pointed at regions directly north of my boobies." She indicated her face. "There's nothing down here for you," she teased as she pointed at her chest.
Matt let his gaze linger on her chest. "That's where you're wrong, sweetheart. There's plenty down there for me."
Mark rolled his eyes. Taking Bridget's arm, he led her to the sofa, where they sat down together. "Ignore my brother. He's missing a filter or two and usually says completely inappropriate things as a result."
She moved closer to Mark on the sofa, enjoying the jealous glare from his twin. "So I wouldn't have to worry about that with you?"
Mark hopped on board the flirting train, putting his arm along the top of the cushion at her back, gathering her closer. "Absolutely not. I can assure you I'm a complete gentleman."
Matt plopped down on the couch on her other side, grasping her hand. She was ultrasensitive to every touch, every glance from these men. She wasn't sure she'd ever been so hot for a man. Unfortunately, this wasn't one man, but two.
"Get away from my girl."
"Your girl?" Mark asked.
Though she could tell they were teasing, Bridget decided she'd be wise not to let the game go too far. "Oh no, you don't. I'm not getting in the middle of a pissing contest. Something tells me the two of you take too much pleasure in it."
Matt shrugged. "We're brothers. It's in the sibling rivalry codebook."
She laughed. "Find something else to fight over. I'm only here for a few days more and I'd like to spend them in relative peace and quiet. I've had enough violence to last me a—"
She froze as both men's faces turned from smiling to scowling in an instant.
Shit. Way to go, big mouth.
"Violence?" Mark asked.
She struggled to find a way out of the mess she'd just made. "I just meant fighting amongst siblings."
Matt looked toward the kitchen. "Siblings? Do you and Rodney fight? Does he hit you?"
"Dear God, no. He's the mildest, kindest, most compassionate man on the planet. How could you ask such a thing?"
Mark turned her face toward his with gentle fingers on her chin. "Violence is sort of strong word for simple arguments between a brother and a sister. You know you could tell us if something's wrong, Bridget. We'd keep you safe."
She'd never received a more welcome invitation. For the second time in one day, her heart ached to share her painful secret. Common sense reared its ugly head. "Help me? You don't even know me."
"We know enough to see you're in some sort of trouble," Matt said. "Rodney's constantly running odd errands around town without you, while you're supposedly on vacation. You've yet to leave this inn and, well, you're a tad bit jumpy. What's up with you two?"
How could anyone be that observant? Maybe Rodney had been right about them hiding somewhere more secluded. They obviously had shitty poker faces. "Nothing's up with us. Everything is as we said. We're just here on vacation."
Matt looked like he wanted to press the subject further, but Mark's heavy sigh cut him off. "Okay. We'll go with that. For now. If you change your mind and want to talk, the door's open."
She forced a lighthearted grin to her face. "Nothing to talk about. I'm downright dull."
Mark shook his head. "I seriously doubt that. So, about these riding lessons—"
While Rodney had given her the go-ahead, it didn't change one very simple truth. "I was stupid to make that bet. I wasn't kidding when I said I'm afraid of horses."
Matt squeezed the hand she'd forgotten he was holding. "We'll take it nice and slow, sweetheart."
"In other words, you're not letting me out of the bet."
Matt grinned at her. "Not on your life. You're going to spend the next three days—"
"You said it would take two days."
The mischievous rogue winked at her. "You said you wanted to learn to be a cowgirl. That takes time. Trust me, at the end of four days, you'll be—"
"Four days?" As much as Bridget hated to make the break, she forced herself to stand and walk away from the incredible heat of their strapping bodies. Facing them where they still sat, she put her hands on her hips. "You are a shyster and a con man. I agreed to riding lessons. I'm fairly certain that can be achieved in one day."
Mark stood slowly. "Three days."
"Two," she countered.
Matt jumped up and shook her hand as if sealing the deal. "Two days plus one date."
"Date?"
Matt retained the hand he held, using it to pull her closer. "You just shook on it. We teach you how to ride, and you let me take you out dancing one night."
"You get to take her dancing?" Mark interjected. "I don't think so. The whole idea behind this wager was mine to begin with. If anyone's taking Bridget out on a date, it's me."
Bridget threw her hands up. "Enough. I'll agree to three days of riding lessons if you two agree that we're just going to remain friends. No more fighting."
Matt looked like he wanted to argue about the friends idea, and Bridget tried to suppress the part of her that hoped he'd press the issue.
"Fine," Mark said, though his tone indicated he wasn't happy about her demands.
She grinned. "It's better this way. Trust me."
Matt shrugged. "Maybe. Maybe not."
"I'm going to head into the kitchen for some dessert. Do you guys want some?"
Mark shook his head. "No. I think I'd better head back. One of the horses was acting strangely this morning and I'm worried she's getting sick. I want to check on her before I go to bed."
"I'll walk back with you," Matt said. They'd told Bridget earlier in the evening there was a small path toward the rear of the house that led straight to the James Ranch. "Jacob can ride back in the truck with Caleb and Jessie or on his own if the two love birds don't make it back from your guest house. You mind letting them know we left?"
Bridget shook her head. "No, not at all."
Mark tapped her nose playfully. "We'll expect to see you at the ranch bright and early tomorrow morning."
She narrowed her eyes. "What's bright and early? Nine? Ten?"
Matt laughed. "I was going to say six. Maybe another compromise? How's seven thirty sound?"
"Painful," she groaned. "But I'll be there."
Mark reached for her hand and lifted it to his lips. She suppressed a slight shiver when he pressed a quick, hot kiss on her palm.
Never one to be outdone by his brother, Matt upped the ante, placing a friendly kiss on her cheek. "Night, sweetheart," he drawled, his hot breath tickling her sensitive skin.
Because You Love Me is available at Samhain, Amazon, Sony, All Romance Ebooks, and Barnes and Noble.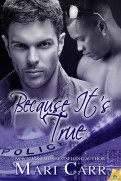 And now…the end. I never in a million years intended to write an m/m story. Never. I'm far too attached to my girlie bits (literally–lol), but then, Jacob and Rodney appeared on the scene and I'll be damned if they weren't perfect for each other. I'm fortunate because Jambrea Jo Jones is not only an amazing m/m author, but she's a very dear, very patient friend. She talked me off the ledge, assured me I could write the story and then served as a cheerleader for me.
Like the other stories, I found the title in music. Jacob's love of ABBA was introduced way back in Because of You. The line from I Do, I Do, I Do, I Do, I Do kept playing over and over in my head as I wrote the book and it just fit.
Because It's True
Sometimes there are only two choices. Love…or leave.
Jacob James falls for Rodney the moment the New York Citycop crash lands into his far-too-predictable ranch life. The sexy city slicker is everything a lonely Wyoming cowboy could ever dream of. When Rodney is shot in the line of duty, however, their off-the-charts attraction turns unexpectedly cool. Jacob offers the only thing he has left—friendship.
All Rodney can think about—besides his cowboy lover—is getting back to his job. But what good is a cop who can't fire a gun? While he's grateful for Jacob's support through months of grueling physical therapy, how can he offer anything more when his own future is so uncertain?
When he's finally cleared to return to work in New York, Rodney thought it would be the happiest day of his life. Except reaching his goal means leaving Jacob behind…and a future he never thought he wanted. Until now…
Warning: New York City cop meets Wyoming cowboy. Come on. You know that's going to be hot.
Excerpt:
Prologue
Searing pain roared through Rodney's arm as black spots danced before his eyes. More gunfire pounded into the wall of the building behind him, pelting him with shards of shattered brick. He'd known something was wrong the second he walked out of the bank. Hell, he'd had a premonition all morning that something would happen, that everything was about to change. He knew better than to ignore his gut feelings.
"Rodney!"
Fuck. Bridget was out in the open. He forced himself to remain conscious despite the agonizing fire currently raging through his body. He watched Mark throw himself on top of her, shielding her from the gunfire.
"Get her to the fucking car!" Rodney yelled. Jesus. If Bridget was killed, it would be his fault. His. It was his job to protect her.
Bridget crawled closer.
He reached out with his uninjured arm. "Bridget, take this. Get toNew York." He pressed the flash drive they'd spent the last month of their lives searching for into her hand. It was the key to putting the judge whose henchman was currently trying to kill them away forever.
"I'm not leaving you," Bridget insisted.
Rodney took a deep breath, praying for the strength to get her out of harm's way. Mercifully, Mark grabbed her, dragging her to the truck.
Please let her make it. He sighed with relief, the sound coming out as a harsh shudder when he watched the truck with Bridget ensconced inside pull away.
"Bridget," he whispered.
Strong hands gripped him, shocking him. What the fuck? He started to kick out, but the last of his strength slowly drained away.
"It's me, Rod."
Christ. Jake. No.
"Get down," Rodney said, the words sounding more like a bark than his normal voice. "Get inside!"
Jacob didn't reply. Instead he lifted Rodney's upper body with firm hands beneath his armpits and dragged him to the entrance of the bank. The movement was excruciating and bile rose to Rodney's throat. Waves of nausea caused by the red hot poker lodged in his arm enveloped him.
He'd been shot. It was a possibility he'd faced every day as he patrolled the streets of New York City as a cop. Who would have thought this sleepy town of Saratoga, Wyoming would be the place to bring him down?
The gunshots had ceased with Bridget's escape.
Jacob laid him gently on the floor of the bank's lobby. He saw a security guard standing next to his friend, talking on the phone. He would have grinned if he hadn't been in so much pain. If he was going to die, he couldn't think of a better last sight than Jacob's gorgeous face. Sirens sounded in the distance.
"Bridget," Rodney whispered.
Jacob knelt next to him. "Matt and Mark got her away. She'll be fine, Rod. And so will you. Just hang on, man."
She was safe. Jake was safe.
Rodney let those comforting thoughts permeate the haze of pain, though he still couldn't let go of the premonition.
Everything is changing.
His eyes drifted closed, his body shutting down.
They were safe.
But was he?
Because It's True is available at Samhain, Amazon and Barnes and Noble.
May 30th, 2012 at 5:33 am
5 Responses to "Wanna try a new series?"
Leave a Reply