Two Great books!
Now y'all know I love me some Jess Dee and Jambrea Jo Jones. They both have new releases out this week.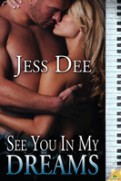 For Jess, it's See You in my Dreams–and a new series, Speed–coming out at Samhain today. Check it out!!!
Every girl's fantasy…one woman's dream.
Speed, Book 1

Sophie Butler is sure she's about to lose her much-needed cleaning job. She's not only walked in on a guest—a violation of her employer's cardinal rule—but she can't seem to tear her gaze away from his gorgeous, naked-as-the-day-he-was-born body.
If all that isn't bad enough, her usually sensible judgment and behavior are clouded by a nagging sense of familiarity. She knows the man from somewhere, she just can't quite place him.
Nathan Pace is certain he's just lost his jealously guarded anonymity. But hold on…if she's just another fan looking for a piece of his alter ego, rock star Jamie Speed, why is she blushing six shades of scarlet? And why is he instantly aroused? When he catches a glimpse of her eyes, he knows. She's the woman who for ten years has haunted his dreams.
The attraction that flares between them is undeniable—and unstoppable. But getting close means risking Nathan's secret identity. Just this once, he'd like a woman to fall for the real man, not the press's version of a celebrity superstar. 
---
Product Warnings
This may be an erotic contemporary romance, but it does contain a hint of fantasy. And when that fantasy involves erotic dreams about a gorgeous rock star, you know you're gonna want the fantasy to become reality… 
For Jambrea, the story is an awesome one called Rayne's Wild Ride! Check out the main character's name! 🙂
It gets better.
Rayne Carr was riding his bike, minding his own business when his life was forever changed. Driving over State Boulevard Bridge he sees a woman about to jump and intervenes. Appearances can be deceiving.
Charles Sylvester Piper, III wants to end it all. No one understands him. His father is abusive and his mother hides in a bottle. When his younger brother finds Piper in his favourite dress he is kicked out of his basement apartment. With nowhere to turn he leaves his life to fates hands. When a big scary biker asks for a kiss on the worst night of his life, who is he to refuse.
Is love really all you need?
Reader Advisory: This book contains cross dressing.