Island Idyll
My BFF Jess Dee has a book releasing at Samhain today! It's part of the Bandicoot Cove series and these covers AND stories are red, red hot! Check it out!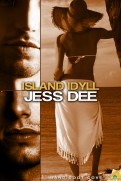 Island Idyll
Adolescent fantasies can grow into very adult realities.
Bandicoot Cove, Book 4
Sienna James has come to Bandicoot Cove to mourn the end of her eight-year relationship with Ben Cowley. The last person she expects to meet is the star of every one of her high school fantasies.
Joshua Lye is not only as appealing as he was in high school, he reveals she was the main feature in his adolescent wet dreams. As kids they never got it together. But they're adults now, and there's nothing keeping them apart.
When Ben arrives at the resort determined to win Sienna back, finding another man in her bed kind of throws a spanner in the works. But he isn't deterred. Rather than admit defeat, he comes up with an alternative plan: Let Sienna sleep with both men—at the same time. Then she can make an informed decision as to which man she wants.
Sienna shouldn't want to go through with this shockingly sexy plan, but she does. Desperately. Except after the sexual storm passes, she could have it all…or be left holding an empty heart. 
---
Product Warnings
Contains a suggestion beyond risqué, a solution beyond orgasmic, and two men who know how to play dirty. Really, really dirty.