Saturday Snippet
This week's theme is a dream. When I considered the topic, I instantly thought of Lane, the heroine in Waiting for Wednesday. She was one of my most vulnerable characters. Having grown up in the foster care system and after escaping an abusive marriage, she worked hard to find her inner-strength. Luckily, she found Tris Collins, so along with that empowerment, she also found love.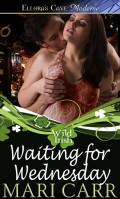 Snippet:
Lane jerked awake, sitting upright on the couch. She jumped again, alarmed by the shadow of a man perched on the coffee table in front of her.
"Ahh," she said, sucking in a deep breath.
"It's me," Tris said softly. "I didn't mean to scare you."
She placed her hand over her heart. "Give me a minute." He remained silent for a few moments as she attempted to compose herself.
"Are you okay?" he asked.
She nodded. "I'm fine. You startled me."
"What the hell are you doing sleeping on the couch?"
Lane sighed. She'd been a fool to think she could keep up the illusion of sharing a room with Riley. Fact was, she was exhausted from too little sleep. Tris stared at her, waiting for an answer, and she struggled to come up with one that would appease him.
"The bed in Riley's room hurts my back."
"Try again."
"I was restless tonight and I didn't want to keep your sister up with my tossing and turning."
"We're probably getting closer to the truth with that one. The dark circles you've been carrying under your eyes the last couple days make me think this isn't the first night you've moved to the couch."
She shrugged. "I'm not a great sleeper."
"You were crying," he said, and her concerns about coming to stay with the Collins family came crashing down on her. Her erratic sleeping was one of the main things she didn't want anyone—especially Tris—to know about. It was embarrassing, weird, disturbing.
"Really?" she asked weakly. "That's strange."
Tristan shook his head. "No, I don't think it is. You gonna tell me about it?"
"Please don't ask me."
He considered her words and she felt the weight of the silence surrounding them crushing her. Then to her surprise he rose and, for a minute, she thought he was going to grant her a reprieve. She should have known better.
He bent down and picked her up from the couch as if she weighed nothing. "What are you doing?" He turned toward the stairs to the third floor, to his bedroom, and her cursed heart starting racing again.
"You don't want to talk, so we won't."
His words left her speechless and he chuckled lightly when he looked down and spotted the nervousness on her face.
"Don't worry, kitten. We're not going to do that, either. We're going to sleep. Looks like you could use about forty-eight hours of it."
"I can't sleep in your bed. What will your family say?"
"They'll probably say it's about damn time."
She looked at his room as they entered, taking in the simple décor. His was the one room in the apartment she'd yet to see. In fact, this was the first time she'd come to the third floor. Riley had told her that—aside from the twins' bedroom—the top floor of the building was used primarily for storage. Lane could only assume as the family had grown, so had the need for more bedrooms.
Tris placed her on the end of his bed, lightly pushing her. "Slide over."
It was a king-size bed and because his room wasn't that big, one side of it butted up against the wall.
"Big bed," she murmured as she moved as close to the wall as she could.
"First thing I did when Killian left for the military was pitch the single beds and buy myself a man-size one." He gestured to himself. "I might be a twin, but this body was not made to sleep on a twin mattress."
She giggled. "Must have been a tight fit."
"I hit my growth spurt at fourteen. For four years I slept with my feet dangling off the end of the mattress."
"I shouldn't be here," she whispered when he crawled in beside her, pulling her into his strong embrace.
"This is exactly where you should be."
Waiting for Wednesday is available at Ellora's Cave, Amazon, Barnes and Noble, Sony and All Romance Ebooks.
Dream some more with these fantastic authors.