Comin' Up Cowboys
WINNERS!!!
The winner of my backlist book is Kim!
The winner of Regina's backlist book is Elece!
Congrats and thanks to everyone for sharing in our Yee Haws! 🙂
This week at Ellora's Cave, everything is comin' up cowboys. I have a new release today in the Lawless line called Inflamed. It's exciting enough getting a release date, but imagine my delight when I realized I'd be sharing the day with fellow Cougar Challenge pal, Regina Carlysle — one of my favorite authors and pretty much the nicest woman on the planet. This gal can write HAWT cowboy stories!
Today, we thought we'd celebrate our cowboy releases together by playing a little game. Here's the deal: I'm going to pose a question about cowboys. In order to be entered into a drawing for winner's choice from my backlist, you need to pop over to Regina's blog to leave the answer. While you're there, why not look around? She has some gorgeous covers and amazing excerpts.
THEN…check out the cowboy question Regina has posted, come back here and answer it to be entered into a contest to win your choice from her backlist. Sound like fun? Two chances to win! The contest will run through Friday night. Check back Saturday to see the winners' names.
OKAY–my question is this: Who is your favorite sexy cowboy? Remember–DON'T post your answer here. Post it over on Regina's blog. Check out her question and post the answer to that question here.
Stuck in a rut in every way possible, Keri's first step in a bid for change is moving back to the Texas home she left years ago. The second step? Spicing up her sex life with the crazy-hot cowboys she left behind. Too responsible (and smart) to touch her way back when, Max and Shaw filled Keri's hottest teen dreams. Now she's all grown up, and more than ready to make up for lost time.
Max and Shaw were always fond of Keri, but the stunning woman strutting back into their lives is a far cry from the serious, studious teen they remember. She wants to take a walk on the racy side—with both of them—and the cowboys are only too happy to oblige. As they suspected, the sex is explosive, though Max and Shaw aren't sure Keri can really handle everything they have to give.
Nor do they know if she can handle the sexy secret they've yet to divulge.
Read an excerpt.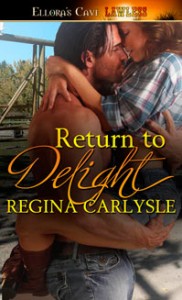 Return to Delight
Harley June Baker left Delight thinking never to return, but when circumstances draw her back to this tiny town and straight into Cooper's strong arms, she knows she's in deep trouble. The man she'd loved and left behind is now one sexy devil-in-denim and hotter than a Texas summer night. With his every wicked touch throwing her senses into overdrive, how could any sane woman resist?
Cooper Dobbs is a man on a mission. He let Harley get away once, but never again. Knowing it's time to burn up some sheets with the delectable woman, Cooper plies her with a raw, savage passion that threatens to incinerate them both. It's gonna take plenty of panty-drenching sex and a fair amount of sweet-talkin' to make Harley his, but Cooper reckons he's up to the challenge.
Read an excerpt.