Saturday Snippet
Today's theme is Winter Wonderland. When I think snow, I immediately think of my first published story, Erotic Research. The heroine, Julia and her too-hot-for-words editor, Ross manage to turn up the heat in the midst of a blizzard.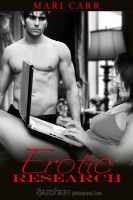 Excerpt
A loud knock at the door had her jumping up. Suddenly feeling very isolated and unprotected, she scanned the room for some sort of weapon. Spying a big log in her pile of firewood, she grabbed it, cowering in the corner. The pounding on the door continued, louder this time, and Julia's heart began to race. Who the hell would be on top of a mountain in the middle of nowhere on a day like this? It was a virtual whiteout outside.
"Jules, open the damn door. I'm freezing my ass off out here."
Ross? She sighed in relief, rushing to unlock the door, and there in the doorway stood her very tall, very wet editor.
"What are you doing here?" she asked, aware her tone was distinctly unfriendly, but he had scared her half to death.
Eyes narrowed, Ross entered the cabin, his arms laden with packages, a large duffel bag thrown over one shoulder, a backpack over the other. "I tried to call, but the phone lines are down," he answered gruffly.
"My cell?" she asked sarcastically.
"No service up here," he replied with equal irritation.
"Is something wrong?" She couldn't imagine what could be so bad it would compel Ross to leave the comfort of his penthouse apartment in New York City to drive for nine hours to the mountains.
"Blizzard." He unloaded his bags on the kitchen counter. "Headed this way. I was worried you'd be snowed in without enough food."
Secretly pleased at his incredibly sweet gesture, Julia smiled and helped him unload the soggy paper bags. "You've brought enough food for an army." She gaped at all the meat, vegetables, fruit and snacks he carried in. "I hope you don't think I need all this to survive. Hey, I didn't hear a car. How did you get here?"
"By the grace of God and my four-wheel drive. I almost made it all the way to the cabin. The snow is already pretty deep. I got stuck about a mile down the road. Had to walk the rest of the way. Looks like we're going to be stuck here for a while." Pulling off his drenched coat, he hung it on the peg by the door.
"My God," she exclaimed, glancing out the frosted window, "it's freezing out there and the visibility must be zero. You're lucky to have made it at all. What the hell were you thinking? You could have been killed." She put her hands on her hips, suddenly aware of the very real danger he'd just escaped.
"What was I thinking?"
"Yes. Good Lord, Ross, of all the idiotic things to do. What if you'd crashed the car? What if you'd gotten lost in the snow while looking for the cabin? You could have frozen to death."
Ross shook his head. Clearly, of all the receptions he'd imagined, this nagging scold was not one he'd considered. "I guess, like the idiotic fool I am, I thought you'd be glad to see me. That you'd offer me a warm drink and some supper. I thought you'd be happy not to be stuck up here in this godforsaken cabin alone in a blizzard!"
Biting her lip, she said softly, "Well, I am. Happy, that is. I was feeling rather trapped—and alone."
As quickly as his anger came, it left him. Smiling, he admitted, "It was a damn stupid thing to do. Unfortunately that fact didn't occur to me until I was about halfway up the mountain and I realized it was too late to turn around."
"Let's get you out of those wet clothes," she said, suddenly very pleased to have him with her. "I'll put some water on for tea."
"Don't bother with the tea. I brought a bottle of Southern Comfort." His hands shaking, he attempted, with little success, to tackle the buttons on his soggy flannel shirt. "We are in the South, after all."
"I'm not sure West Virginia classifies as the South. It's really sort of the middle. Here, let me." Pulling his trembling hands away, she quickly unbuttoned his shirt and tugged it off. His skin was like ice to the touch. "You'll be lucky if you don't catch pneumonia or frostbite," she said, unable to resist one more scold. "Come stand by the fire." Taking his icy hands in hers, she rubbed them lightly. "I'll get a blanket for you. Stay here and try to get warm."
Crossing the room, she retrieved a fleece blanket from the foot of the bed as Ross struggled with the button fly on his damp jeans.
"I'll do that," she said, concerned for his health. His hands were still trembling and looked blood red and chapped. No doubt he'd lied about how long he'd really been roaming around in the snow and wind.
"Jules," he started to object, but she was already working the buttons free, concern distracting her from exactly what she was offering to do. When she had the last button unclasped, she grabbed the waistband and started to pull the clinging denim off his legs. The task was harder than she would have thought, but sheer determination and worry kept her going. She struggled for several minutes, working the material down his muscular legs, stopping only to pull off his boots and socks, before finally peeling the jeans completely off.
"There," she exclaimed, looking up into Ross's suddenly pained face. Her mouth went dry as she realized that during her exertions she'd knelt in front of him and was now eye level with his barely clad cock straining through the material of his silk boxer shorts. This part of him certainly gave new meaning to the term "frozen stiff".
"I—" she stumbled, unwilling to take her eyes off his very large appendage. She was sure she'd never seen anything quite so big and her curiosity outweighed her embarrassment.
"My God," she whispered, awestruck as the monstrous cock seemed to grow even larger before her eyes. Without a thought, she reached up and nearly touched it before a growl above her and a strong hand on her wrist stopped her.
"Brown Eyes," Ross said, his deep voice flowing over her like honey, "if you don't move away from that this minute, I'll keep you kneeling there the rest of the night."
 Erotic Research is available at Samhain, Amazon, Barnes and Noble, Sony, Fictionwise, and All Romance Ebooks.
Why not "wonder" over and check out some more snippets sure to heat up the winter.