Steamy Reunion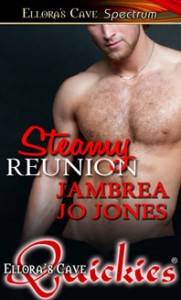 My good friend, Jambrea Jo Jones has a new release today… and boy am I thankful for that! It's available today at Ellora's Cave. Fans of m/m romance take note because Jambrea is one of the hottest authors in this genre out there today!
Ambrose Firth hated high school, so why is he contemplating going to his fifteen-year reunion? One name—Noah Winters. Noah stars in many of Ambrose's wet dreams, but the man was a jock, and in high school, Ambrose was a geek. Not anymore. But he isn't dating anyone either. Not wanting to seem desperate, he does what any self-respecting gay man would—he hires an escort.
Noah is everything Ambrose remembered—and then some. With a little push from his "date", Ambrose determines to decipher the mixed messages Noah' s been sending all night. Imagine Ambrose's surprise when Noah can't keep his hands off him. But Ambrose wants more than just a romp. Noah better hold on for a steamy reunion.
Excerpt:
It was just an email. No big deal. Ambrose could do this. He didn't have to commit to anything, right?

Right.

He logged on to www.rentboy.com and plugged in his zip code to see who would come up. He'd learned about the escort website while surfing porn. Some of his favorite adult entertainment stars had mentioned they were listed on rentboy. But he wasn't there for a hookup. Damn reunions. Who had come up with the idea of these nights of torture anyway? Probably some popular kid who wanted to rub everyone else's noses in the fact that they were successful and happy.

Ambrose had the successful part down. He owned a chain of coffee shops in Chicago and had done pretty well for himself. Now he needed to work on appearing happy. What better way to do that than to show up at his old school with some arm candy? A sexy guy who would wow his classmates.

He wasn't a slouch in the looks department. At least not anymore. He'd grown into his features and spent a lot of his free time these days in the gym. Take that, jocks.

Why was he agonizing over this? He stopped thinking about the swirlies in the men's room and being trapped in his locker back then, and instead looked at the hot guys in front of him today. Shit, they were expensive. Maybe he could work a deal with one of them. He wouldn't be spending the night with the man, after all.

Wait a minute. Here was a guy who didn't look like a bodybuilder. Ambrose didn't like the muscle-bound physique—too much of a reminder of high school and unfulfilled fantasies. He shook off his neuroses and read the stud's ad.

My name's Ryan. I'm 6'2" with blond hair and green eyes. I have an 8" cock and know how to use it. I'm toned and sleek with a swimmer's body. Willing to travel. Call or email with questions and for my rates.

That sounded promising. Could he really do it? Hire a date? What the hell. You only live once. He would do it.

To: Ryan.xxx

From: Broman28

I am writing to find out your pricing. I am interested in hiring you to escort me to an event. There would be some travel involved. The event takes place in a suburb of Chicago. I would need you next Saturday around 5:00pm. We should be finished and home around midnight.

If you are free and interested please let me know.

Thank you,

Ambrose 

Ambrose let his hand hover over the mouse. He paused for a minute, still not sure if he should hit send. Do it, do it, an inner voice urged, and he clicked. Now he had to wait for a reply. His palms were sweating. He needed to walk away. Who knew how long it would take for a response? He had to get to his office.

Why did an invitation back home make him feel so insecure? Maybe he should forget the reunion. Fuck them, he thought as he walked to the shower.

But Ambrose knew he wouldn't miss it and he knew why. Noah Winter. His cock hardened as the image of the teenage heartthrob worked its way into his mind. The daydreams he'd had of catching Noah au naturel in the locker room had kept him in a constant state of arousal all through high school.