Dreams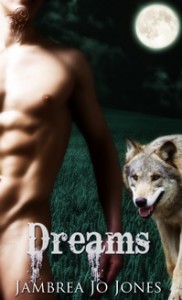 I'm thrilled to be sharing a very special day tomorrow with my International Heat buddy, Jambrea Jo Jones. We both have releases! Jambrea's story Dreams was originally part of the Over the Moon anthology. Total E-bound has decided to release each book separately and JJJ's book hits the shelf tomorrow! I hope you'll pop over to Total E-bound to pick up a copy of this beautiful story.
Book one in The Seeds of Dawn Series
Anabella's dreams bring her to David, but is he the salvation she's looking for?
Anabella Pouge is plagued with powers she can't control, making her life far from normal when all she wants is ordinary. Change is coming her way when she must flee with a man straight out of her dreams.
David Sanders is sent to find Anabella. Without her, the future of his wolf pack is in danger. Forced to travel to the middle of nowhere, David finds Anabella might mean more than just his pack's survival.
Will the two make it back to the pack in time? Can Anabella and David accept each other and the coming changes to their lives?
Reader Advisory: This story has been previously released as part of the Over the Moon anthology by Total-E-Bound