Slow Burn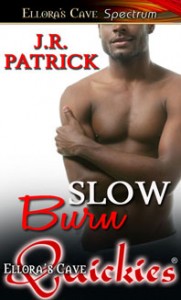 There's a new book out at Ellora's Cave and I want to make sure everyone spotted it. It's called Slow Burn and it's by my critique partner, JR Patrick. This is JR's second published book, though it's her EC debut. I anticipate it won't be her last. JR is a fantastic writer and I'll tell you why. Slow Burn, like her first book at Dreamspinner, is an m/m. I'll confess. I'll say it out loud. This isn't a genre I typically read. However, JR's books grab me and hold me and won't let me go until the last word. So…if like me, m/m isn't your thing, I would like to encourage you to try one by JR. They are short, satisfying, enjoyable reads!
Zach is too hot for words but Marc has no intention of falling for his sexy coworker—no matter how many of Marc's explicit dreams Zach stars in. With only a few months left of his stay in Germany, Marc doesn't dare risk his heart with the beautiful man. But a train ride gone wrong changes everything when Zach comes to his rescue, melting Marc's resistance in the process.
Zach's patience has paid off. But now that the reserved scientist has turned up the heat from simmer to sizzle, four months won't cut it. No. Zach wants forever. Will their chemistry be enough?
Read Excerpt.