Wild about Coyotes!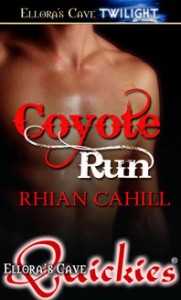 My CP's Coyote Hunger prequel, Coyote Run, is available at Ellora's Cave today. If you haven't started this series, today would be a great day to pick them up. Once Rhian's snagged you with Coyote Run, you can pop back over to EC to pick up Coyote Home and Coyote Wild (both are already available). It's a fantastic series! Go check it out.
Prequel to the Coyote Hunger series.
Forced to make the heartwrenching decision to leave Whispering Mountains, Rowan Wilder isn't about to go without securing her bond with Quinn MacClellan. Neither expected their first time to be on the forest floor or while running to escape a madman but when it comes to claiming their mate, nothing can stop the hunger from burning out of control and consuming them both.
Publisher's Note: This is not a standalone story; it has a cliffhanger ending. The next book in the series, Coyote Home, is needed to reach a satisfactory conclusion.