Meet the Heat – Rhian Cahill
This week kicks off a ten-week extravaganza called Meet the Heat. As many of you know, I share a blog and yahoo group with 9 other lovely ladies in the ebook industry. This summer, we thought we'd turn up the heat as we showcase a different member of International Heat each week.
For the first week, we are spotlighting my critique partner, Rhian Cahill. Rhian's books have been published at Ellora's Cave and Noble and she is a fantastic lady and a wonderful writer. Rhian and I have been critique partners and friends for over two years now and I honestly wonder how I ever wrote without her.
One of the first books I ever read from Rhian was the first draft of One Night in Bangkok. Little did we know at the time, ONIB was about to become her first published book. I can still remember her email the day she got 'the call' from Noble that it had been accepted. Very exciting…for her and me.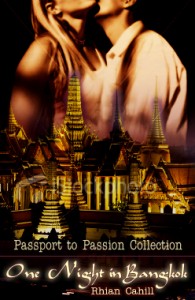 One night in Bangkok is all it takes to turn Beth Martin's future plans upside down. After being betrayed by her fiance the last thing she needs is another man screwing up her life. But Tom is different. He makes her feel sensations long forgotten, makes her want in ways best left unspoken. Can she live out her wildest fantasies in one decadent night? And when it's over, can she walk away, or will what she doesn't want prove to be what she needs?
Excerpt:
Hand suspended in mid-air, inches from the door, Beth froze. Could she do it? Could she take the next step? A simple thing, knock on the door, wait for him to answer.
But there was nothing simple about knocking on this door.
A tap of her knuckles and everything would change.
Her nostrils flared to pull in as much air as she could. She sucked it down deep, filling lungs suddenly void of oxygen. It didn't help. Didn't make her any less lightheaded, no less anxious and did nothing to quell the swarm of butterflies performing aerial acrobatics in her stomach.
She had her eyes wide open and she knew what she was getting into. She knew this night was the chance of a lifetime. The chance to indulge her fantasies with a sexy stranger, a chance to become the bold woman she wanted to be.
There would be no morning after to worry about, no lies to tell. Both of them knew tonight was a one shot deal. They would take it for what it was, nothing more than ships passing in the night. No last names, no phone numbers, no facing each other over the breakfast table.
Back in her room, her bags were packed, ready for her early morning flight to the island of Phuket. She never dreamed she'd be handed this perfect opportunity to give the new Beth a chance to stretch her wings.
With nothing to lose and everything to gain, Beth held her breath and knocked on the door. The first two were barely more than taps; she bit her bottom lip and knocked twice more. No chance anyone inside would miss them. The door opened before her hand made it back to her side.
He stood in the doorway in jeans and a t-shirt, casually dressed like he'd told her he would be. She thought he'd looked yummy earlier, dressed in a business suit with his tie pulled loose and the first few buttons of his shirt undone. Now he looked downright delicious and her mouth watered at the thought of peeling those clothes off him.
Tall, dark and handsome didn't begin to describe this man. His dark, slightly tipped eyes gave away his mixed heritage. He'd told her earlier his mother was Thai and his father American. The combination of the two produced a breathtaking specimen of height, lean muscle, smooth caramel-colored skin and eyes that reminded her of rich espresso coffee.
When Beth brought her gaze to his face she found him watching her. The corner of his mouth curled up and those mesmerizing eyes sparked with interest. He stepped back and motioned with his arm to invite her in. Her earlier anxiety left the second she'd laid eyes on him. She remembered why it had been so easy to accept this invitation.
She wanted him.
Wanted him with a hunger she'd never known before and there was no way she would pass up her chance to tangle the sheets with this man. It didn't matter if he was five years younger than her. This wasn't the beginning of a relationship. It was one night to indulge her wildest fantasies with a stranger. Someone she'd never see again.
Their bodies brushed as she entered and pulsing fingers of need burst from the point of contact. Heat swirled in her stomach, creeping lower. She had an almost undeniable urge to clamp her legs together at the sudden burn. A drum beat pounded in her head, drowning out all but the need raging in her blood. The click of the door closing behind her sent shivers of excitement through her core.
This was it.
In a matter of minutes she'd be stripped bare and offering herself to him. She trembled as images of the two of them entwined together flitted through her mind. A knock on the door jolted her out of her erotic thoughts.
"Ah, perfect timing. That'll be our dinner." Tom opened the door and stepped aside as a uniformed employee rolled in a trolley.
"Dinner?" She moved out of the way to let the server pass and Tom closed the distance between them, crowding her against the wall.
"Yes, dinner," he whispered into her ear.
"But I thought—"
"What? That I would strip you naked and take you against this wall the minute you walked in?" His warm, moist breath sent shockwaves of lust down her neck. He bit her earlobe lightly. "Make no mistake, Beth, I will have you. But I'm a civilized man. I invited you to dinner and I will feed you dinner."
AND of course, there's a contest! All you have to do is travel over to the International Heat blog and leave a comment on one of Rhian's posts this week. The winner will be drawn next weekend and will receive their choice of backlist and an Aussie surprise.