Sweet Thursday Contest
Ruby Tuesday, a classic song by the Rolling Stones, is the title of book two in the Wild Irish series. This book is more lighthearded and fun than Come Monday and, according to my editor, it's her favorite in the series thus far. 🙂
Tuesday's Child is full of grace.
Sky Mitchell is hiding out in Baltimore, seeking peace and solitude while he struggles with a career decision. Lead singer of popular rock group The Universe, he's thinking of going it alone. Wandering into an Irish pub, he's ecstatic to discover the breakout single for his solo album—but the songwriter doesn't want to sell. He challenges the woman to a contest. Not only does he win the song, but also a songwriting partner to complete the rest of the album.
Teagan Collins is sure of her talent but she's never aspired to fame and fortune. She's content singing folk tunes in her family's pub. Working on an album with Sky tests her patience…and her libido. The hot rocker plays her body like a fine instrument, their desire deepening with each song they write.
But someone doesn't want Sky to go solo, and will stop at nothing to sabotage the couple's efforts. Undaunted, Sky wants Teagan to join him onstage at his farewell concert to sing her original, "Maybe Tomorrow"…
If they make it through today.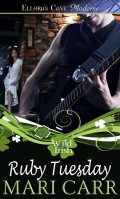 Ruby Tuesday excerpt:
"Change of clothes?"
Sky nodded absentmindedly and Teagan could see he was disturbed by the sudden turn of events.
Strangely, she felt afraid. "The paparazzi are a bad thing?"
"More like an annoying thing. Sort of like a swarm of fucking giant bloodsucking mosquitoes. Pardon my language. I thought I'd escaped the bastards. They're supposed to be staking out my house in Palm Springs."
"So now they're stalking you here. Isn't this all pretty commonplace for you?"
He sighed heavily and she felt her heart twinge at the sound. "Yeah, I guess so."
He began to pull off the heavy fake beard he'd been sporting all night. As more and more of his face was revealed, Teagan felt all the breath leave her body. His features, no longer obscured by the ugly disguise, were shockingly, stunningly handsome.
"Oh," she whispered when he pulled off the last piece.
He glanced up at the sound of her surprise and grinned. "Like what you see?" he asked in the cocky manner she was quickly becoming accustomed to.
"You do realize you sound like an asshole, right?"
"I'm a rock star, gypsy. It's all part of the package." His words were spoken lightly and she knew he was teasing.
"Yeah, well, knock it off. We've got bigger fish to fry. What are we supposed to do about the paparazzi?"
"I've been thinking about that and I have a plan. Sort of. As long as we act fast, I may be able to sneak out the back and make my way to the hotel without being spotted."
"I can drive you if you'd like." She figured she owed him the favor considering how rude she'd been in regards to his singing earlier.
"That could work," he said, though she could tell he was distracted by his own plans. "Take off your clothes."
"Ha," she laughed. "In your dreams." So much for her feelings of goodwill.
"Just your blouse and skirt, Teagan."
"Oh my God. You are relentless. How many times do I have to tell you—"
"I want to wear them."
She eyed him with serious concern and he laughed. "I'll put them on and sneak out the back door. Believe me, this won't be the first time I've worn something questionable to avoid those vultures."
"And I guess I'm supposed to flit around in my bra and panties while the National Enquirer photographer snaps away?"
"You can wear Ewan's shirt until he comes down with a change of clothes for you."
"Why don't you wait and wear those clothes?" she asked.
"Because I'm in a hurry and chances are good the paparazzi saw the backs of two people on the stage, you and me. Ewan can pretend he was me. I'm going to pretend I'm you."
"And who do I get to be? Barbra Streisand?"
Sky looked at her with amusement. "Do you know any famous singers from this decade?"
"Only one—Sky Mitchell, and he's a pain in the ass who's done nothing but remind me why I don't bother with contemporary musicians."
"I'm hoping your family can distract the paparazzi while I get out of here. I don't think you fully appreciate how relentless these cameramen are. I don't have much time before they surround the place. Ewan will be here soon with something for you to wear. Shit, if it's that big of a deal," he stepped over to the shelf behind her, "here's an apron too."
"I'm supposed to wear Ewan's shirt and an apron?"
"Gypsy, I'd prefer you hang out in this closet in nothing but your bra and panties until he gets back."
In Ruby Tuesday, Sky wants to buy a song Teagan's written. One he is sure will skyrocket him to success in his new solo career. In keeping with yesterday's music theme, today's question is simple. What's your favorite song of all-time?