Ride 'em cowboy!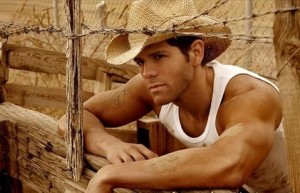 My pal, Vivian Arend had a new release yesterday and I wanted to give her a quick plug. Mainly because I LOVE this series. I love red hot cowboys and this book is jam-packed with them. The first in the series, Rocky Mountain Heat, is my favorite Vivian book, but I have to confess, this story may have bumped the first book from that perch. Both stories are well written, hot, entertaining, and I hope you'll check them out! Rocky Mountain Haven is available at Liquid Silver.
Six Pack Ranch, Bk 2
Welcome to the Six Pack Ranch, where learning to live again takes some sensual twists.
Beth Danube has escaped to a small Alberta town to make a new start for herself and her three little boys. Her emotionally abusive husband may be dead and buried, but so is her heart. What she doesn't want is another man in her life—not now, maybe not ever. Yet when her libido reawakens after ten years of unsatisfactory sex in the missionary position is any woman strong enough to turn down sex-in-boots, Daniel Coleman?
The middle child of the rowdy Coleman boys, Daniel's the quiet one who has always subdued his desires and acted as peacemaker. His powerful attraction to the young widow takes him by storm, and he's willing to pursue her until they both find satisfaction—in and out of the bedroom.
Only Beth isn't sure she's ready to cross the line. Becoming friends with blazing hot benefits means she's still the one in control. Letting her heart trust again? She isn't that brave—or foolish. Daniel is going to have to be mighty convincing to help her overcome the past.