Saturday Snippet
 Oh man–I love a good bar brawl and Spitfire has a doozy! Thought I'd share a bit of it with you.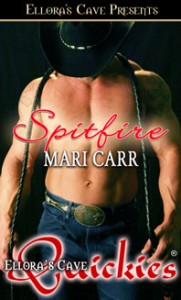 Several patrons who'd been drinking, not paying attention to the drama unfolding at the pool table, turned. Rem could see that while there might be an unspoken rule about playing a second game, there was a hard-and-fast rule about paying a debt. A couple badass customers walked to the table.
"There a problem here, little lady?" one of the men asked. Jesus, Rem thought, as he gazed at the giant. At six foot five, he wasn't used to looking up to any man, but this guy had him by at least three inches.
"Slick owes me money. Won't pay up," Liv answered. Several of Slick's friends had gathered at his back and as quickly as that, she'd thrown up the flag to indicate the beginning of the brawling phase of the night. He needed to get her out of here now.
"Let's go," he murmured in her ear, backing them both away from the pool table and forcing his way through the crowd gathering.
"No," she said, attempting to break his iron-tight grip on her. "He owes me money."
"I'll give you the goddamn fifty dollars," Rem growled. "Now move!"
Angry words began flying across the table and Rem wasn't sure who threw the beer bottle but within seconds, every man in the room jumped and he was reminded of a pack of wild dogs he'd once seen attack an unprotected calf. Chaos ensued.
He was shoved roughly from behind, losing his grip on Liv, who'd been waiting for a chance at freedom. She made her way over to Butch, grabbing the man and punching his jaw with the force of a trained boxer. Rem tried not to be impressed, but she was fierce and powerful and by God, she was going to be his. He couldn't wait to release that fiery spirit in the bedroom.
Rem knocked over three men, punching two others as he attempted to retrieve Liv before Butch could retaliate. His blood turned cold as he watched Butch reach down, grab a pool cue and swing it at Liv. She ducked the blow at the last minute, slamming
forward into the man's gut with her head. Butch fell backward, crashing into a table before hitting the floor.

 
"You fucking bitch," he screamed as he attempted to get to his feet, slipping on spilled beer.
The hustlers made their way over to Liv, ready to attack, and Rem blocked a punch from one man while delivering a roundhouse kick to Slick, who'd attempted to sneak up behind him. He watched Liv dispatch the third man by smashing a beer bottle over his head. Rem moved forward, shoving Liv toward the back door as sirens broke through the air. The rioting mass of men scattered like ants at the sound of the police approaching. He managed to get Liv out of the building and around to his truck in time to watch four police cars pull into the parking lot.
Spitfire is available at Ellora's Cave, Amazon and Sony.
Why don't you fight your way over to these other blogs and check out the action there as well?