Buy this book!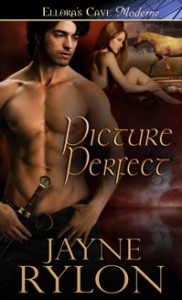 Well, I suppose by now y'all know I'm about the biggest Jayne Rylon fan on the planet. I'm here to tell you–she's done it again. Her latest book, Picture Perfect is releasing at Ellora's Cave and this story is fan-damn-tastic. It's romantic, sexy, hot, and charming with a clever plotline and a hero that makes me swoon.
BUY THIS BOOK! It rocks! Seriously!
Picture Perfect
Conn Hennessey would give his father's properties to ravish the woman he watches every night as an unwilling voyeur. Dana is uninhibited, passionate and gorgeous, but he would never settle for spying on her if he had the chance to ease the loneliness she confesses to him often.
Trapped in a cursed painting nine hundred years ago, a millennium of experience convinces Conn that Dana is his soul mate. Observing her without being able to caress her, to bring all her sensual desires to reality, is an unending torment—until All Hallow's Eve magic gives him a shot at freeing them both.
During one wild night, he fulfills Dana's fantasies. Come morning, can he convince her of what he knows to be true? He's not an imposter pretending to be the man of her dreams. They were destined to be together and he has twenty-four passion-filled hours to break the spell or be condemned to his prison, alone, for all of eternity.
The clock is ticking.