Read Phoenix Incantation!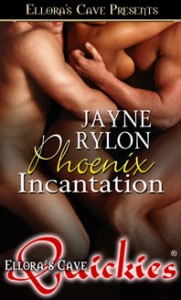 I know, I know! I've talked up Jayne Rylon's books here before, but I can't help it. The woman can write the hell out of an erotic romance. Her latest book is actually her first at Ellora's Cave and it's called Phoenix Incantation. It's totally different from what I usually read. It's a vampire story written in first person. Yeah, I know–not my thing either. Then I read it. Actually I devoured it. Couldn't put it down. Freaking awesome, RED HOT menage story and I loved it. It's a quickie and it's well-written. It's worth your time and money–trust me!
Blurb:
Amystia didn't think anything could be hotter than five-thousand wild years of passion with the most powerful vampire on Earth. Then she and her mate, King Dagan, began a steamy affair with his closest advisor. Threesomes with her two lovers were never supposed to be more than fun but, somehow, both her and Dagan's feelings have blossomed into something deeper than respect and friendship for Warren.
As they are on the cusp of proposing a more permanent relationship, a terrible accident destroys all plans for the future. Dagan's life hangs in the balance. In a desperate bid to save him, Amystia and Warren invoke ancient magic through a steamy ritual. If they fail, they'll all be doomed to eternal darkness. If they succeed, can their eternal love rise from the ashes?