Spotlight 6 – Viv Arend winner
And the winner is……Rhonda! Viv will contact you about your prize.
This week the spotlight shines on a fairly new author, Viv Arend, who has made one helluva splash in the ebook world. An avid outdoorswoman, Viv brings much of her explorations of the natural world to her stories. Since the debut of her first book, Wolf Signs, at Samhain, her immediate success has all the characteristics of an avalanche of great books. Some are available now and others are coming very soon. I thought I'd share the covers and buy links if you'd like to learn more about them.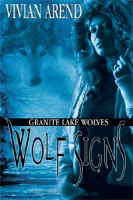 Wolf Signs was Viv's first published story with Samhain and book one in series. Wolf Flight was recently contracted at Samhain and will be released in the fall.
 Soul Deep was released at Noble Publishing and is a hot little paranormal story. I really liked this one!
  Tidal Wave released just this past week at Samhain and has been rocking the best seller list ever since. This is a red hot menage with a fiesty pair of water shifters and a sexy woman! LOVED it.
 Rocky Mountain Heat is coming to Liquid Silver in the fall. I wsa fortunate enough to get a sneak peek at this story and all I can say is Viv can write some red hot cowboys! Great story.
And did I mention the fact that Viv has done the impossible? Yep, I read her shifter books and loved them! I'm not a shifter fan ordinarily, but Viv's stories jump off the page and just grab you in.
This week's winner will receive their choice of one of Viv's previously pub'd books, Wolf Sign, Tidal Wave or Soul Deep.