Buy This Book!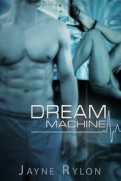 I'm serious. I'm an avid reader and I genuinely like most of what I read. However, in the case of Jayne Rylon's Dream Machine, I think it's safe to say, like is a bit mild to describe my feelings.
What an amazing story! Really amazing. Jayne came up with a unique plot and two characters who were so REAL, I feel as if I know them. Kurt was the epitomy of the tortured alpha (my absolute favorite combination in erotic books) and his genuinely true affection for Becca took my breath away. There was truly nothing that man wouldn't do for her.
Okay, okay…I know…stop going on about the love story and tell us about the sex. Holy HELL! No sex act was omitted in the writing of this book! LOL She described everything is glorious detail, painted vivid pictures in my mind, and made me so completely HOT, I had to take a shower–twice!
Go buy this book. It's worth every penny and every minute of your time.