Spotlight 3 – Rhian Cahill Winner
The winner of Rhian's first book One Night in Bangkok is Karen H. in NC.
This week's spotlight features my critique partner Rhian. In the past year, Rhian has become a wonderful friend and trusted reviewer of my writing. I never have to worry about her sugar-coating anything! LOL.
Her first book, One Night in Bangkok, was released at Noble Publishing in April. It's a terrific story and I happen to have a bit of insider information that says this is just the beginning. The next book in her Passport to Passion series, Singapore Fling has been written and submitted and while touring the US this spring, she 'researched' the third book, Naked In New York. I'll let your minds wander over the researching she did! LOL
She's also working on a fan-damn-tastic trilogy of coyote shifter stories that I'd love to see published at Samhain–SOON. She's gotten rather used to my nagging, I'm afraid.
Here are the details on her first published book. I have no doubts there will be many, many more in her future!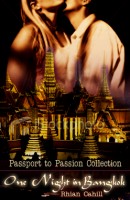 One Night in Bangkok by Rhian Cahill
One night in Bangkok is all it takes to turn Beth Martin's future plans upside down. After being betrayed by her fiance the last thing she needs is another man screwing up her life. But Tom is different. He makes her feel sensations long forgotten, makes her want in ways best left unspoken. Can she live out her wildest fantasies in one decadent night? And when it's over, can she walk away, or will what she doesn't want prove to be what she needs?