Spotlight 2 – Lila Dubois Winner!
The winner of this week's Spotlight prize is RAIN. Lila will be in touch with you. The next Spotlight will go live on Sunday, July 5 and features my critique partner, Rhian Cahill. The contest will run until July 10. Be sure to get your comments in to be eligible to win!
Lila normally lives in Hollywood, which provides an endless supply of exciting evenings and writing ideas, but is currently terrorizing a sleepy little town in Surrey, England. She's moved in with her shiny new fiance.  
Having spent extensive time in France, Egypt and Turkey, Lila speaks five languages, none of them (including English) fluently.
Lila has yet to look the correct way when crossing the street in England and family and friends are taking bets on when she will be hit by a car.
You can contact Lila by emailing
author @ liladubois.com
(no spaces.)
Lila's latest book with Red Sage, Kitsune, is available now. You can check it out here.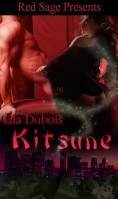 On the anniversary of Joe's mother's death he breaks his own rules and has a one night stand with an exotic stranger. Sakura is unlike any woman Joe's ever met: smart, beautiful, and very quirky. That's because Sakura isn't like any woman he's know before–she's not human. Sakura's a kitsune, a mystical Japanese fox who can take on the form of a woman, on a mission: help Joe discover his Japanese heritage and make peace with his past. They didn't say anything about falling in love with him…
To read about all of Lila's books, visit her website.