Promoting a new author…
…and a great friend. My critique partner, Rhian Cahill, has contracted her first book, One Night in Bangkok, to Noble Publishing. It will be released this coming Saturday, April 11. Folks, I've read the book and it is a HOT one.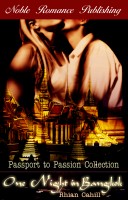 I wanted to share the cover and blurb to give this gal a BIG shout out.  She's extremely talented and I'm certain this book is just the beginning of a very prosperous career. Congrats Rhian!
One night in Bangkok is all it takes to turn Beth Martin's future plans upside down. After being betrayed by her fiance the last thing she needs is another man screwing up her life. But Tom is different. He makes her feel sensations long forgotten, makes her want in ways best left unspoken. Can she live out her wildest fantasies in one decadent night? And when it's over, can she walk away, or will what she doesn't want prove to be what she needs?