Home
Latest release–available now!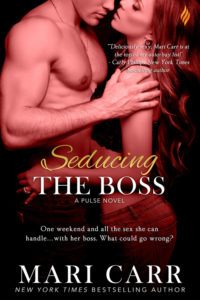 Seducing the Boss (Pulse series – Brazen/Entangled)
One weekend and all the sex she can handle…with her boss. What could go wrong?
Kellan James is unwinding at Score when he spots the last person he'd ever expect to find in his favorite bar. Sara Connelly — ER nurse, do-gooder, charitable crusader, and frequent pain in his ass. Both grew up privileged in swanky Southampton, but that's where the similarities end. Kellan's made it his mission to seek out life's pleasures; Sara gains pleasure from lecturing him on his lifestyle. Kellan would never date someone like her. Ever.
But when Kellan discovers Sara's been stood-up by an online date, something fierce and protective awakens inside of him. Typically, Kellan would enjoy teasing the jilted Sara, but something in her face sends him over to her table with a plan. He encourages her to take a walk on the wild side, one weekend of sin, no holds barred.
She accepts, but it quickly becomes apparent that one night isn't enough. As the pull between them grows stronger, Kellan discovers it's a very dangerous thing to say never.
Amazon | iBooks | Google | Nook | Kobo
~ ~ ~
Dear Readers,
Thank you so much for visiting my website. I'm absolutely delighted you've found your way here. Along the side, you will find a list of all my published works, along with blurbs and buy links. With the exception of just a couple titles, all my books are available at every major vendor and I'm currently working on adding audiobooks to the mix. Stay tuned for more on that. I've been writing and publishing since 2007. To say I'm living a dream come true would be an understatement. Take a few minutes to click around and if you have any comments or concerns, you can reach me via the "connect" page. I also hang around Facebook and Twitter from time to time and I'd love to chat with you there.
Happy Reading!
Mari